Vancouver, Canada – June 1, 2015 – International oil and gas operator, TAG Oil Ltd., listed on the Toronto Stock Exchange (trading symbol TAO), and in the US on the OTCQX (trading symbol TAOIF), is pleased to announce the appointment of Mr. Toby Pierce as Chief Executive Officer and a Director of TAG Oil, effective immediately.
Mr. Pierce, MBA, B.Sc., is a natural-resource executive with more than 19 years of extensive transactional and valuation experience across multiple deals, from a million to $1.3 billion in value. He began his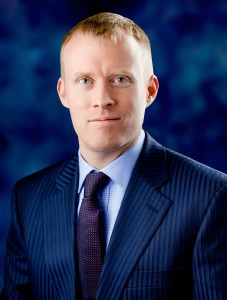 career as a geologist with Hunter Dickinson, then moved to Pierce Geological, a privately held oil and gas consulting company. As Acting Director of Oil and Gas Institutional Research at Tristone Capital, Mr. Pierce worked in both the Calgary and London offices. Remaining in London, he became Partner and Lead Oil and Gas Analyst for GMP Europe Securites LLP, where he covered a variety of oil and gas companies with market capitalizations ranging from $30 million to $15 billion, and provided strategic advice and valuation expertise both internally to the investment banking and sales partners, and externally to energy company management on asset acquisitions, financings, and capital markets, while conducting numerous site visits and asset reviews of operations around the globe. Mr. Pierce recently held a senior management position as Managing Director of Burnt Ridge Advisory, a natural resources advisory firm focused on acquisitions, valuation, investments, M&A, deal structuring, and due diligence for resource companies and investors.
"As a lead oil and gas analyst," commented Alex Guidi, TAG's founder and Chairman, "Toby has a wealth of industry knowledge and a deep understanding of the capital markets, investment banking, mergers and acquisitions, and the challenges and opportunities inherent with international oil and gas companies. Toby's strong strategic and analytical skills and his whole history of experience are a great match for TAG's goals and business plan, to: identify opportunities, execute oil field development and exploration, optimize efficiencies across all areas of the business, increase and broaden capital market awareness and analyst following in North America, Europe and the Asian financial communities, and ensure TAG Oil's value is properly reflected in the markets as an international peer group leader."
Toby Pierce added, "With TAG Oil's impressive New Zealand acreage package, stable existing production base, strong balance sheet, and excellent set of development opportunities, I see nothing but possibilities. Given the decline in oil prices and the reduced risk appetite amongst investors for internationally based smaller E&P companies, I think this is the ideal time to focus on profitable operations versus exploration, and to position TAG Oil for the next up-cycle in international oil stocks. I'm excited to be part of the TAG team going forward, and see many opportunities to enhance shareholder value."
Concurrent with Mr. Pierce's appointment as CEO, Mr. Alex Guidi will continue to act as Chairman of the Company. TAG Oil's Board now consists of Alex Guidi, Toby Pierce, Keith Hill, Ken Vidalin and Brad Holland.
TAG Oil Ltd.
TAG Oil Ltd. (https://tagoil.com/) is a Canadian-based development-stage oil and gas company with extensive operations, including production infrastructure, in the Taranaki region of New Zealand. As one of New Zealand's leading operators, TAG is poised for long-term, reserve-based growth, and is positioned with attractive exploration activities in the lightly explored Taranaki Basin discovery fairway. As a low cost, high netback oil and gas producer, TAG is debt-free and reinvests its cash flow into development and step-out drilling along trend with the Company's existing production.