PURSUING A UNIFIED VISION
TAG Oil is a Canadian-based and listed oil and gas exploration company pursuing acquisitions, exploration, and production in the Middle East and North African (MENA) region.

Our forward-looking strategy is to position the Company for significant growth via strategic acquisition, property development, enhanced production methods, and capitalizing on overlooked opportunities. TAG Oil's leadership team has demonstrated success implementing these strategies in the past, and looks to the future to build new, significant shareholder value.

Even as TAG works to put the final pieces of its new MENA-based strategic acquisition plan into place, the Company continues to receive production royalties in New Zealand, and to maintain its solid balance sheet.
"While I believe in pursuing all sources of sustainable energy, oil and gas will continue to be a significant supplier of the energy mix for decades. MENA is a region with significant growth potential, and our team has the track record, expertise and unified vision to get the job done."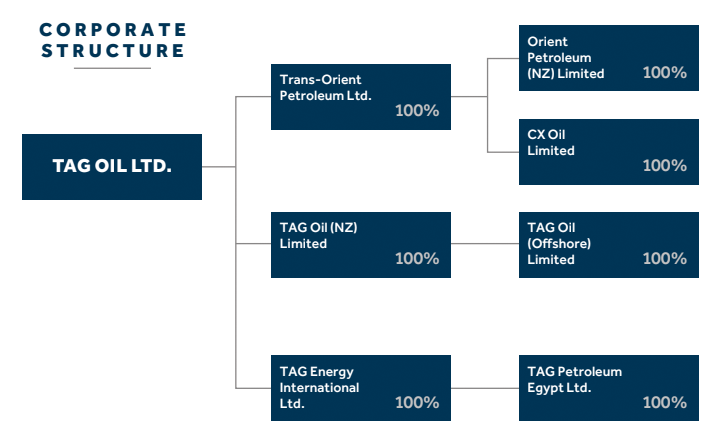 Trans-Orient Petroleum Ltd.
Orient Petroleum (NZ) Limited
CX Oil Limited
TAG Oil (NZ) Limited
TAG Oil (Offshore) Limited
TAG Energy International Ltd.
TAG Petroleum Egypt Ltd.
TAG Oil (NZ) Limited
TAG Oil (Offshore) Limited
Stone Oil Limited

Trans-Orient Petroleum Ltd.
Orient Petroleum (NZ) Limited
CX Oil Limited