INVESTORS
A Canadian-based and listed oil and gas exploration company, TAG Oil's mandate is to provide shareholders with a high impact opportunity to participate in international oil and gas projects.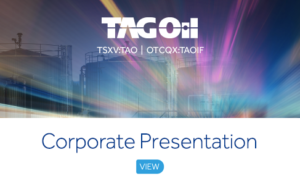 Management has a strong track record of industry success, and the experienced team is implementing a new vision.  As TAG oil continues to receive the benefits of production royalties in New Zealand, the company is targeting acquisitions in the Middle East and North African region.  
TAG Oil's continued solid balance sheet, and the new strategic acquisition plan that's been put into motion form the foundation from which TAG Oil successes will continue to grow.
TSXV : TAO     OTCQX : TAOIF
TAG Oil Shares Outstanding: 91,766,252
Fully Diluted: 105,516,252  
Capital Structure