Vancouver, Canada – March 10, 2015 – Canadian-based, New Zealand oil and gas producer TAG Oil Ltd., (TSX: TAO and OTCQX: TAOIF) is pleased to announce that Mr. Alex Guidi – the Company's Chairman and founder – has been appointed interim Chief Executive Officer.
Mr. Guidi commented: "As an established oil producer and reserve-based, high-impact exploration company, TAG is poised for future growth internationally. The Company enjoys the benefits of a diverse suite of attractive drill-ready opportunities situated in the prolific Taranaki-region discovery trend, underpinned by high netback production and core oil field development, which has been substantially de-risked over the past four years. My mandate as interim CEO is to capitalize on TAG's strong position, with a view to drive shareholder value, while at the same time, ensure that the capital markets better understand TAG's deep value relative to its peer group companies. Personally, I'm excited by the many corporate and operational opportunities this presents, and look forward – with the help of our excellent corporate and operating teams in both Canada and New Zealand – to take TAG through the next stage of corporate growth."
Mr. Guidi is a significant shareholder in TAG, and his oil and gas investments in New Zealand date back to 1993 when he founded Indo-Pacific Energy Corp. and Trans-Orient Petroleum Corp. Mr. Guidi's efforts paved the way for more than $300 million to be invested into New Zealand's petroleum sector – which resulted in oil and gas discoveries, production interests, infrastructure – and operated several joint ventures, which attracted numerous international explorers to New Zealand's petroleum sector.
TAG's New Zealand Country Manager and 30-year oil and gas industry veteran Max Murray, will be reporting directly to Mr. Guidi. "I'm looking forward to exciting times ahead, and to working more closely with Alex as we continue TAG's planned Taranaki exploration programs and reserve growth, and to explore other opportunities for value creation," noted Mr. Murray.
About Alex Guidi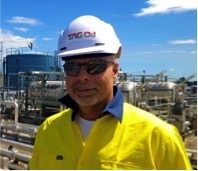 Mr. Guidi (56) is a successful international oil and gas entrepreneur, and founder and CEO of the industry holding company, International Resource Management Corp. (IREMCO). Upon its inception in 1989, the IREMCO group of companies expanded rapidly by acquiring and operating extensive oil and gas exploration concessions and production interests around the world, including Canada, Argentina, Peru, China, Australia, New Zealand, Papua New Guinea and in the Indonesian-Australian Timor Sea Gap.
IREMCO's Australasian efforts, which began in 1993, have resulted in one of the region's most widespread exploration campaigns, leading to exploration discoveries in New Zealand and major gas discoveries in Papua New Guinea, strategic mergers and acquisitions, joint-ventures, farm-out agreements, and sale of assets or control to larger corporations including Philips Petroleum, Talisman Energy, Origin Energy, Genesis, Boral Energy, Infratil Limited, Apache Corp., Mosaic, Beach Petroleum, Elf Aquitaine, Pan Canadian, and a number of other international oil explorers.
Some of the IREMCO group companies have ranked among North America's best performing independent oil and gas companies in the past years, attracting more than 20,000 stockholders worldwide. Under Mr. Guidi's leadership, the IREMCO group of companies experienced significant shareholder value creation, growing from an initial market capitalization of less than $300,000 to reach a cumulative market capitalization of more than a billion dollars, with listings on senior North American exchanges.
Mr. Guidi began his career in the oil industry as a drilling roughneck. In the late 1980s, he was an early adopter of the then-revolutionary horizontal drilling technology for mature oil fields in South East Saskatchewan, playing a key role in transforming Williston Basin-focused Walking Stick Oil and Gas Ltd. into an operator, producer, and development-stage entity that was later acquired by Bonavista Petroleum.
TAG Oil Ltd.
TAG Oil Ltd. (https://tagoil.com/) is a Canadian-based development-stage oil and gas company with extensive operations, including production infrastructure, in the Taranaki region of New Zealand. As one of New Zealand's leading operators, TAG is poised for long-term, reserve-based growth, and is positioned with attractive exploration activities in the lightly explored Taranaki Basin discovery fairway. As a low cost, high netback oil and gas producer, TAG is debt-free and reinvests its cash flow into development and step-out drilling along trend with the Company's existing production.
For further information:
Alex Guidi, Chairman/CEO
Phone: 1-604-682-6496
Email: [email protected]
Website: https://tagoil.com/
Blog: http://blog.tagoil.com/
Cautionary Note Regarding Forward-Looking Statements:
Statements contained in this news release that are not historical facts are forward-looking statements that involve various risks and uncertainty affecting the business of TAG. Such statements can be generally, but not always, be identified by words such as "expects", "plans", "anticipates", "intends", "estimates", "forecasts", "guidance", "schedules", "prepares", "potential" and similar expressions, or that events or conditions "will", "would", "may", "could" or "should" occur. All estimates and statements that describe the Company's objectives, goals, forecasts, guidance, production rates, test rates, optimization, timing of operations, increased pace of drilling, statements regarding prospects being drill ready and/or future plans with respect to the drilling and field optimization work in the Taranaki Basin are forward-looking statements under applicable securities laws and necessarily involve risks and uncertainties including, without limitation: risks associated with oil and gas exploration, development, exploitation and production, geological risks, marketing and transportation, availability of adequate funding, volatility of commodity prices, environmental risks, competition from other producers, and changes in the regulatory and taxation environment. Actual results may vary materially from the information provided in this release, and there is no representation by TAG Oil that the actual results realized in the future would be the same in whole or in part as those presented herein.
Other factors that could cause actual results to differ from those contained in the forward-looking statements are also set forth in filings that TAG and its independent evaluator have made, including TAG's most recently filed reports in Canada under NI 51-101, which can be found under TAG's SEDAR profile at www.sedar.com. TAG undertakes no obligation, except as otherwise required by law, to update these forward-looking statements in the event that management's beliefs, estimates or opinions, or other factors change.