Vancouver, Canada – April 16, 2015 – TAG Oil Ltd. (TSX: TAO and OTCQX: TAOIF): Mr. Alex Guidi, founder and Interim CEO of Canadian-based New Zealand operator TAG Oil Ltd., respectfully is providing the following update on the Company's Taranaki Basin oil and gas production, operations, and coming drilling activity.
TAG's near-term focus is on low-expenditure, in-field production optimization opportunities which have been identified to lift production. In addition, an extensive geotechnical and engineering review is being completed over TAG Oil's Taranaki development and exploration acreage with a view to initiate the next round of drilling on the Company's operated Cheal and Sidewinder Exploration and Development acreage later this year.
Oil and Gas Production
Average production (primarily from the Cheal oil field) for the first 15 days of April, 2015, was 2,252-BOE/d (gross) or 1,970 BOE/d (net), an increase of 116-BOE/d (gross) and 127 BOE/d (net) over March production. Fiscal year-to-date, up to March 31, 2015 production is estimated to have averaged 2,118 BOE/d (gross) or 1,856 BOE/d (net). TAG's average per barrel operating cost is approximately US$26 per BOE, and the Company's oil is sold on the premium Brent oil index.
Cheal Oil Field Production & Development
The Cheal oil field continues to provide TAG with a stable, high-netback production base and long-life reserves, with revenue capable of funding drilling costs while building production and reserves.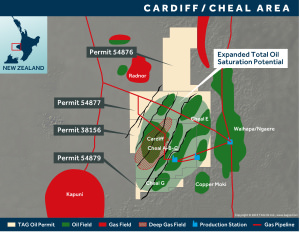 TAG plans to fully develop the 100%-controlled Cheal oil and gas field, which has been substantially de-risked by the 36 wells drilled to date across the field. Permit-wide 3D seismic coverage indicates the entire Cheal permit area is target rich, with more than 70 development drilling locations that have been identified and high graded. Encouraging results continue to be achieved at Cheal including in the Cheal East area, where the naturally free flowing Cheal-E1 well (TAG: 70%) has been producing gross volumes of 500 to 600 boe/d (82% oil) on choke for 16 months. With drilling and completion costs of under US$3 million per well, it gives an indication of the unrecognized upside and robust economic potential that exists within TAG's acreage.
Cardiff Gas Discovery
TAG's 100% controlled mining permit, PMP 38156, where the Company's Cheal oil field is located, also contains the large Cardiff structure of the deeper Kapuni Group formations, which is on trend and geologically similar to the large legacy deep gas condensate fields that have been discovered in the Taranaki Basin.
In December 2013, TAG completed drilling of the Cardiff-3 well, which was drilled to a total depth of 4,863 meters and intercepted 230 meters of gas and condensate bearing sands in three target zones within the Kapuni Group. The deepest of the three zones, the K3E was perforated and hydraulically fractured. It produced gas and condensate with no formation water, but at sub-commercial rates. Independent expert analysis of the results has concluded that either the fracture stimulation was ineffective because of a poor cement bond over the K3E interval, or skin damage must exist in the near wellbore area, restricting flow. As a result TAG is completing engineering, design and associated planning to recomplete and fracture stimulate a series of other Kapuni group (deep) formations identified within the wellbore.
Sidewinder Field
T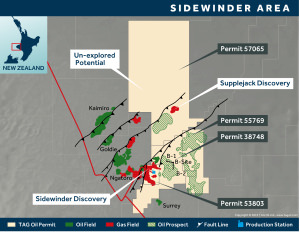 he Sidewinder acreage provides TAG with the opportunity to potentially develop another field similar to Cheal and the adjacent the Ngatoro/ Kaimiro field, which is a 60-million barrel oil field and is a close analogue to the potential contained within TAG's Sidewinder acreage and TAG's Cheal field. TAG has now assembled a 22,000-acre exploration play area around its Sidewinder gas discovery and plans to commence drilling of the SW-1B and SW-2B wells later in the year. Both wells will target oil-prone prospects in the Miocene-aged, Mt. Messenger formation at approximately ~2000 meters depth. To date, TAG has drilled seven shallow gas wells on the Sidewinder A site, however these new wells will target the oil potential identified within the Sidewinder B area.
TAG Oil Ltd.
TAG Oil Ltd. (https://tagoil.com/) is a Canadian-based, development-stage oil and gas company with extensive operations—including production infrastructure—in the Taranaki region of New Zealand. As one of New Zealand's leading operators, TAG is positioned with attractive exploration activities in the lightly explored Taranaki Basin production fairway, and poised for reserve-based growth. As a low cost, high netback oil and gas producer, TAG is debt-free and reinvests its cash flow into development and step-out drilling along trend with the Company's existing production
BOEs:
TAG Oil has adopted the standard of six thousand cubic feet of gas to equal one barrel of oil when converting natural gas to "BOEs." BOEs may be misleading, particularly if used in isolation. A BOE conversion ratio of 6Mcf: 1 Bbl is based on an energy equivalency conversion method primarily applicable at the burner tip and does not represent a value equivalency at the wellhead.
Cautionary Note Regarding Forward-Looking Statements:
Statements contained in this news release that are not historical facts are forward-looking statements that involve various risks and uncertainty affecting the business of TAG. Such statements can be generally, but not always, be identified by words such as "expects", "plans", "anticipates", "intends", "estimates", "forecasts", "guidance", "schedules", "prepares", "potential" and similar expressions, or that events or conditions "will", "would", "may", "could" or "should" occur. All estimates and statements that describe the Company's objectives, goals, forecasts, guidance, production rates, test rates, optimization, timing of operations, increased pace of drilling, statements regarding prospects being drill ready and/or future plans with respect to the drilling and field optimization work in the Taranaki Basin are forward-looking statements under applicable securities laws and necessarily involve risks and uncertainties including, without limitation: risks associated with oil and gas exploration, development, exploitation and production, geological risks, marketing and transportation, availability of adequate funding, volatility of commodity prices, environmental risks, competition from other producers, and changes in the regulatory and taxation environment. Actual results may vary materially from the information provided in this release, and there is no representation by TAG Oil that the actual results realized in the future would be the same in whole or in part as those presented herein.
Other factors that could cause actual results to differ from those contained in the forward-looking statements are also set forth in filings that TAG and its independent evaluator have made, including TAG's most recently filed reports in Canada under NI 51-101, which can be found under TAG's SEDAR profile at www.sedar.com. TAG undertakes no obligation, except as otherwise required by law, to update these forward-looking statements in the event that management's beliefs, estimates or opinions, or other factors change.