Vancouver, B.C. – October 31, 2016 – Oil and gas exploration and production company, TAG Oil Ltd. (TSX: TAO and OTCQX: TAOIF, "TAG"), is pleased to announce that its wholly owned Australian subsidiary, Cypress Petroleum Pty Ltd. ("Cypress"), has entered into a definitive asset purchase agreement (the "Definitive Agreement") with Southern Cross Petroleum & Exploration Pty Ltd. ("Southern Cross"), to acquire a 100% interest, subject to underlying royalties, in Petroleum Lease 17 ("PL 17") and all related assets, which are located in Australia's Surat Basin. The Definitive Agreement is subject to certain conditions, including obtaining all necessary government approvals.
Transaction Highlights
TAG will acquire a 100% right, title and interest in PL17 and all related assets for consideration of AUD$2,500,000, payable to Southern Cross as follows:
AUD$750,000 (less the AUD$40,000 non-refundable deposit already paid) payable in cash on the closing date;
AUD$500,000 payable in cash on July 20, 2017;
AUD$500,000 payable, at the sole discretion of Cypress, in cash or satisfied by shares of TAG, on the second anniversary of the closing date; and
AUD$750,000 payable, at the sole discretion of Cypress, in cash or satisfied by shares of TAG, on the third anniversary of the closing date.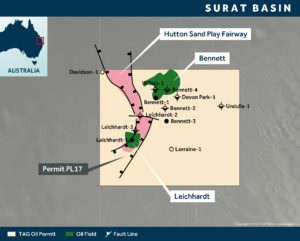 PL 17 Highlights
PL 17 covers 104 km2 (25,700 acres) in the Surat Basin, which is one of Australia's oldest producing basins, and is approximately 20 km away from the Moonie Oil Field that has produced ~25 mmb to date. Two fields, Bennett and Leichhardt, are located within the permit and have produced intermittingly from the Permian formation since being discovered in the 1960's, with current production from the Bennett field of approximately 15 b/d of light oil. The Permian oil play is the primary conventional play opportunity within PL 17, and a work program is being designed to enhance the understanding of the reservoir's properties.
About TAG Oil Ltd.
TAG Oil Ltd. (https://tagoil.com/) is a development-stage oil and gas company with extensive operations, including production infrastructure in the Taranaki Basin region of New Zealand. As one of New Zealand's leading operators, TAG is positioned for long-term reserve-based growth with attractive exploration activities in the lightly explored Taranaki-region discovery fairway. As a low cost, high netback oil and gas producer, TAG is debt-free and reinvests its cash flow into development opportunities and step-out drilling along trend with the Company's existing production.
For further information:
Chris Beltgens, Vice President, Corporate Development
Phone: 1-604-682-6496
Email: [email protected]
Website: https://tagoil.com/
Blog: www.tagoil.com/media-center/tag-oil-blog/
Cautionary Note Regarding Forward-Looking Statements:
Statements contained in this news release that are not historical facts are forward-looking statements that involve various risks and uncertainty affecting the business of TAG. Such statements can generally, but not always, be identified by words such as "expects", "plans", "anticipates", "intends", "estimates", "forecasts", "schedules", "prepares", "potential" and similar expressions, or that events or conditions "will", "would", "may", "could" or "should" occur. All estimates and statements that describe the Company's objectives, goals, or future plans relating to the proposed transaction are forward-looking statements under applicable securities laws and necessarily involve risks and uncertainties. Actual results may vary materially from the information provided in this release, and there is no representation by TAG that the actual results realized in the future will be the same in whole or in part as those presented herein.
Other factors that could cause actual results to differ from those contained in the forward-looking statements are also set forth in filings that TAG and its independent evaluator have made, including TAG's most recently filed reports in Canada under National Instrument 51-101, which can be found under TAG's SEDAR profile at www.sedar.com. TAG undertakes no obligation, except as otherwise required by law, to update these forward-looking statements in the event that management's beliefs, estimates or opinions, or other factors change.