Vancouver, B.C. – August 15, 2016 – Oil and gas exploration and production company, TAG Oil Ltd. (TSX: TAO and OTCQX: TAOIF) is pleased to report first quarter results for the fiscal year ending March 31, 2017, in which the Company has continued with its strategy to preserve capital by continuing to reduce its capital expenditures and focus on field optimization opportunities, prospect generation and capitalize on distressed asset acquisitions.
Oil and gas production has continued to be steady and is above guidance with a current net daily average rate of 1,237 BOE/d (81% Oil) over the month of August.
Even with the cut back on capital expenditure, TAG has realized an increase in its oil and gas sales subsequent to the quarter end including the recent testing of 254 bbl/d of light oil and condensates from a lower unproduced interval in an existing Sidewinder field wellbore.
"Despite the low oil price environment and substantially scaled back capital expenditure, we have continued to make progress as each fiscal quarter passes towards once again growing our production and reserve base. With our COO, Henrik Lundin, now firmly planted in our New Zealand operations office, and a much stronger technical and business development team in place, I am pleased with the advances that have been made. The low oil price environment has created opportunity for TAG with the acquisition of the Puka discovery acreage, along with the successful uplift from workovers at Cheal and Sidewinder, is a testament to this progress. The testing of over 250 bbl/d of light oil and condensates from a bypassed interval at the Sidewinder field is quite encouraging, and should provide a significant and welcome production uplift going forward," commented TAG Oil CEO Toby Pierce.
Q1 2017 FINANCIAL AND OPERATING HIGHLIGHTS
At June 30, 2016, the Company had $15.0 million (March 31, 2016: $16.8 million; June 30, 2015: $20.5 million) in cash and cash equivalents and $20.9 million (March 31, 2016: $22.1 million; June 30, 2015: $26.1 million) in working capital, no debt, and 62,212,252 common shares outstanding.
Average net daily production decreased by 2% for the quarter ended June 30, 2016 to 1,222 BOE/d (76% oil) from 1,251 BOE/d (77% oil) for the quarter ended March 31, 2016. A breakdown of net production is as follows:

Average net daily oil production decreased by 4% to 933 bbl/d compared with 968 bbl/d for the quarter ended March 31, 2016. The decrease is primarily due to the Cheal-B8 and Cheal-E4 wells being shut-in to allow for well stimulation projects and minor plant outages at the Cheal site.
Average net daily gas production increased by 2% to 1.73 MMSCFD compared with 1.70 MMSCFD for the quarter ended March 31, 2016. The increase is primarily due to higher gas volumes from the Sidewinder mining permit (PMP 53803).

Revenue from oil and gas sales increased by 16% for the quarter ended June 30, 2016 to $5.8 million from $5.0 million for the quarter ended March 31, 2016. The 16% increase is due to a 27% increase in average Brent oil prices.
Operating netback increased by 59% for the quarter ended June 30, 2016 to $29.17 per BOE compared with $18.33 per BOE for the quarter ended March 31, 2016. The increase is attributable to a 27% increase in average Brent oil prices and a 4% decrease in production costs per BOE.
Capital expenditures totalled $2.8 million for the quarter ended June 30, 2016 compared to $2.9 million for the quarter ended March 31, 2016. The majority of the expenditure in Q1 2017 related to Cheal-B3 water flood and Cheal-G STOS 3D seismic.
On June 6, 2016, the Company announced it had acquired a 70% working interest and operatorship of the PEP 51153 ("Puka") onshore permit in the Taranaki Basin of New Zealand. The new acreage covers an area of approximately 85 square kilometers (21,000 acres) in the main Taranaki Basin discovery trend and located to the east of TAG's producing Cheal field. The prospect-rich Puka acquisition includes permit-wide 3D seismic, drill ready prospects in multiple formations, including a high potential Tikorangi Limestone prospect and two suspended producing Mt. Messenger wells that TAG expects to bring online.
RECENT DEVELOPMENTS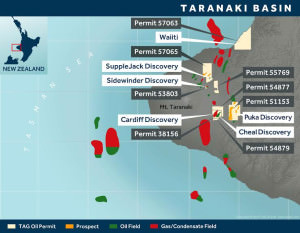 The Cheal B Mt. Messenger pool has been identified as the first phase of a larger water flood project within the greater Cheal area. This project has been delayed by approximately two months due to an engineering re-design, which will allow TAG to inject more water at increased rates and lower costs than originally planned. The water flood project will aim to improve recovery and reserves from the Cheal B Mt. Messenger pool. The project includes re-completion of Cheal-A9, water flood pumps at Cheal A site, and converting Cheal-A2 into an injection well. Planning for re-completion of Cheal-A9 is currently underway; following completion, the water injection will commence and production response will be monitored throughout Q2 2017.
The water flood project has also been scoped at Cheal E site for implementation throughout Q2/Q3 2017. This will involve the provision of additional pumps and associated equipment, as well as potentially converting Cheal-E7 into an injection well.
Recently, TAG successfully tested 254 bbl/d of light oil and condensate from a lower unproduced interval in the Sidewinder mining permit (PMP 53803) over a 24-hour period using a temporary gas lift system. The Company has designed a permanent liquids production facility, which will allow TAG to continually produce liquids at Sidewinder and is expected to commence full time operation in two to three weeks' time. Optimization workovers of Cheal-A3X, E4 and E8 at the end of Q1 2017 were completed and resulted in a production uplift of approximately 90 BOE/d.
LOOKING AHEAD
TAG will continue to work towards achieving the following goals:
Focus on planning and execution of key projects in its shallow Taranaki drilling program to grow reserves and production;
Expand TAG's exploration portfolio in its acreage along the discovery trend targeting the Mt. Messenger, Kapuni and Tikorangi Limestone formations;
Deploy enhanced oil recovery techniques in the Cheal field to optimize production and lower per barrel production costs to maximize the value of its operations;
Enhance development of its exploration program and workover prospects;
Consider select opportunities for international expansion in onshore Australia; and
Manage its operating cash flows and balance sheet as effectively as possible to minimize costs while focusing on shareholder returns.
At Puka, TAG (70%) and its joint venture partner, MEO Australia Limited (30%), have agreed on a work program for the remainder of 2016 and will look to establish future plans for the acreage including putting the suspended Puka wells, which produce oil from the Mt. Messenger formation, back online. The joint venture is committed to drilling one well on the Puka permit by Q4 2018 at a location and target depth to be determined.
Upcoming activities include preparation for drilling of the Cheal-E8 and E9 exploration wells, Cheal-B6 and B7 workovers, and a rod pump project for Cheal-E5 that is likely to commence in September 2016. Given the recent excellent production result at Sidewinder, there is also the potential for TAG to convert additional Sidewinder wells into oil production wells. Further, the Company is assessing several other similar by-passed pay opportunities in the portfolio to enhance production in the near to medium term.
Despite lower oil prices and a reduced appetite for risk in global equity markets, TAG is a financially strong entity that is well positioned for the future. Further, the Company is preparing to begin growing its production and reserves base again through exploration drilling on attractive prospects along trend with existing production.
About TAG Oil Ltd.
TAG Oil Ltd. (https://tagoil.com/) is a development-stage oil and gas company with extensive operations, including production infrastructure in the Taranaki Basin region of New Zealand. As one of New Zealand's leading operators, TAG is positioned for long-term reserve-based growth with attractive exploration activities in the lightly explored Taranaki-region discovery fairway. As a low cost, high netback oil and gas producer, TAG is debt-free and reinvests its cash flow into development opportunities and step-out drilling along trend with the Company's existing production.
For further information:
Ashley Garnot, General Manager
Phone: 1-604-682-6496
Email: [email protected]
Website: https://tagoil.com/
Blog: www.tagoil.com/media-center/tag-oil-blog/
BOEs:
TAG Oil has adopted the standard of six thousand cubic feet of gas to equal one barrel of oil when converting natural gas to "BOEs." BOEs may be misleading, particularly if used in isolation. A BOE conversion ratio of 6 Mcf: 1 Bbl is based on an energy equivalency conversion method primarily applicable at the burner tip and does not represent a value equivalency at the wellhead.
Cautionary Note Regarding Forward-Looking Statements:
Statements contained in this news release that are not historical facts are forward-looking statements that involve various risks and uncertainty affecting the business of TAG. Such statements can generally, but not always, be identified by words such as "expects", "plans", "anticipates", "intends", "estimates", "forecasts", "schedules", "prepares", "potential" and similar expressions, or that events or conditions "will", "would", "may", "could" or "should" occur. All estimates and statements that describe the Company's objectives, goals, or future plans relating to operations are forward-looking statements under applicable securities laws and necessarily involve risks and uncertainties. Actual results may vary materially from the information provided in this release, and there is no representation by TAG that the actual results realized in the future will be the same in whole or in part as those presented herein.
Other factors that could cause actual results to differ from those contained in the forward-looking statements are also set forth in filings that TAG and its independent evaluator have made, including TAG's most recently filed reports in Canada under National Instrument 51-101, which can be found under TAG's SEDAR profile at www.sedar.com. TAG undertakes no obligation, except as otherwise required by law, to update these forward-looking statements in the event that management's beliefs, estimates or opinions, or other factors change.