Vancouver, B.C. – December 6, 2016 – Oil and gas exploration and production company, TAG Oil Ltd. (TSX: TAO and OTCQX: TAOIF, "TAG"), announces successful initial flow testing at the Cardiff field and further information on its Supplejack-1 well flow testing program.
Cardiff (100%)
TAG is pleased to report that the Cardiff-3 well has successfully conducted an interim flow test with gas and condensate produced to surface. Based on the preliminary test results, further long term testing will need to be undertaken in order to support commercialization of Cardiff production via tie back to the TAG's nearby Cheal A facility.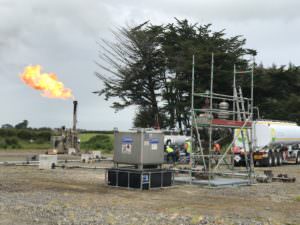 The Cardiff field is located on TAG's 100% owned Cheal oil permit in the Taranaki Basin, North Island of New Zealand. The Cardiff field lies beneath TAG's producing Cheal field in the deeper Kapuni formation, named after the nearby Kapuni field, which was New Zealand's first major gas discovery and has produced 1.4 Tcf of gas and 65 mmb of condensate to date.
Three Cardiff wells have previously tested gas to surface, but not in commercial volumes due to mechanical damage to the reservoir during completion. However, following a review of existing opportunities in TAG's portfolio, the Cardiff-3 well was identified as having the potential to become a producer following clean-up operations.
Cardiff resources have been previously estimated to contain 160 Bcf of P50 best estimate gas initially in place and 5.5 mmb of condensate initially in place in a report prepared by Sproule International in accordance with NI 51-101 requirements. TAG plans to update the resource estimate based on the results of the recent testing, as necessary.
Supplejack (100%)
Subsequent testing operations and analysis have now been completed on the Supplejack-1 well which, as reported on November 8, 2016, had tested at rates of up to 7.2 mmscf/d from the Mt. Messenger Formation before being limited by mechanical constraints.
Initial estimates by TAG indicate that the Supplejack-1 well is an economic discovery, which contains approximately 2.8 Bcf original gas in place as a mid-case estimate, with recovery factors approaching 90% with compression. Initial production rates are forecasted at over 2 mmscf/d.
Toby Pierce, CEO of TAG Oil commented, "I am very pleased to announce TAG's successful initial well test results at the Cardiff-3 well. Demonstrating the possibility for economic production at Cardiff is the first step in unlocking the significant resources present in this deeper formation on our 100% Cheal owned acreage. The resources identifed at Cardiff have the potential to become the major source of production for TAG following development. Further, the positive results of the Supplejack-1 flow test and analysis represent a new producing location for TAG, with additional drilling opportunities identified. The TAG team is continuing to build off our recent momentum at Cardiff and Supplejack and we will update the market with further information on these two assets in due course."
Stock Option Grant
TAG also announces the approval to grant up to 1,585,000 share options at a price of approximately $1.05 per share to various directors, executive officers, employees, and consultants, as part of TAG's ongoing strategy of granting share options to attract and retain talent, as well as motivating its team to work towards ensuring the success of TAG.
About TAG Oil Ltd.
TAG Oil Ltd. (https://tagoil.com/) is a development-stage oil and gas company with extensive operations, including production infrastructure in the Taranaki Basin region of New Zealand. As one of New Zealand's leading operators, TAG is positioned for long-term reserve-based growth with attractive high-value exploration activities in the lightly explored Taranaki-region discovery fairway. As a low cost, high netback oil and gas producer, TAG is debt-free and reinvests its cash flow into development and exploration drilling opportunities along trend with TAG's existing production.
For further information:
Chris Beltgens, Vice President, Corporate Development
Phone: 1-604-682-6496
Email: [email protected]
Website: https://tagoil.com/
Blog: www.tagoil.com/media-center/tag-oil-blog/
Resource Estimates
The resource estimates in this document are by TAG professionals, a non-independent qualified reserves evaluator, and Sproule International Limited, an independent qualified reserves evaluator, in accordance with NI 51-101 and the COGE Handbook, with effective dates of November 30, 2016 and July 31, 2013.
Prospective resources are those quantities of petroleum estimated, as of a given date, to be potentially recoverable from undiscovered accumulations by application of future development projects. Prospective resources have both an associated chance of discovery and a chance of development. There is no certainty that any portion of the resources will be discovered. If discovered, there is no certainty that it will be commercially viable to produce any portion of the resources.
Exploration for hydrocarbons is a speculative venture necessarily involving substantial risk. TAG's future success in exploiting and increasing its current reserve base will depend on its ability to develop its current properties and on its ability to discover and acquire properties or prospects that are capable of commercial production. However, there is no assurance that TAG's future exploration and development efforts will result in the discovery or development of additional commercial accumulations of oil and natural gas. In addition, even if further hydrocarbons are discovered, the costs of extracting and delivering the hydrocarbons to market and variations in the market price may render uneconomic any discovered deposit. Geological conditions are variable and unpredictable. Even if production is commenced from a well, the quantity of hydrocarbons produced inevitably will decline over time, and production may be adversely affected or may have to be terminated altogether if TAG encounters unforeseen geological conditions. TAG is subject to uncertainties related to the proximity of any reserves that it may discover to pipelines and processing facilities. It expects that its operational costs will increase proportionally to the remoteness of, and any restrictions on access to, the properties on which any such reserves may be found. Adverse climatic conditions at such properties may also hinder TAG's ability to carry on exploration or production activities continuously throughout any given year.
The significant positive factors that are relevant to the resource estimate are:
Proven production in close proximity;
Proven commercial quality reservoirs in close proximity;
Oil and gas shows while drilling wells; and
Calculated hydrocarbon pay intervals from open hole logs.
The significant negative factors that are relevant to the resource estimate are:
Tectonically complex geology could compromise seal potential; and
Seismic attribute mapping can be indicative but not certain in identifying proven resource.
Analogous Information
Certain information in this document may constitute "analogous information" as defined in NI 51-101, including, but not limited to, information relating to areas with similar geological characteristics to the lands held by the Company. Such information is derived from a variety of publicly available information from government sources, regulatory agencies, public databases or other industry participants (as at the date stated therein) that TAG believes are predominantly independent in nature. TAG believes this information is relevant as it helps to define the reservoir characteristics in which TAG may hold an interest. TAG is unable to confirm that the analogous information was prepared by a qualified reserves evaluator or auditor and in accordance with the COGE Handbook. Such information is not an estimate of the reserves or resources attributable to lands held or to be held by TAG and there is no certainty that the reservoir data and economics information for the lands held by TAG will be similar to the information presented therein. The reader is cautioned that the data relied upon by TAG may be in error and/or may not be analogous to TAG's land holdings.
Cautionary Note Regarding Forward-Looking Statements
Statements contained in this news release that are not historical facts are forward-looking statements that involve various risks and uncertainty affecting the business of TAG. Such statements can generally, but not always, be identified by words such as "expects", "plans", "anticipates", "intends", "estimates", "forecasts", "schedules", "prepares", "potential" and similar expressions, or that events or conditions "will", "would", "may", "could" or "should" occur. All estimates and statements that describe the Company's objectives, goals, or future plans relating to operations are forward-looking statements under applicable securities laws and necessarily involve risks and uncertainties. Actual results may vary materially from the information provided in this release, and there is no representation by TAG that the actual results realized in the future will be the same in whole or in part as those presented herein.
Other factors that could cause actual results to differ from those contained in the forward-looking statements are also set forth in filings that TAG and its independent evaluator have made, including TAG's most recently filed reports in Canada under National Instrument 51-101, which can be found under TAG's SEDAR profile at www.sedar.com. TAG undertakes no obligation, except as otherwise required by law, to update these forward-looking statements in the event that management's beliefs, estimates or opinions, or other factors change.