Vancouver, B.C. – November 8, 2016 – Oil and gas exploration and production company, TAG Oil Ltd. (TSX: TAO and OTCQX: TAOIF, "TAG"), is pleased to announce preliminary test results from the Supplejack-1 well located in TAG's PEP 57065 permit in the Taranaki Basin of New Zealand.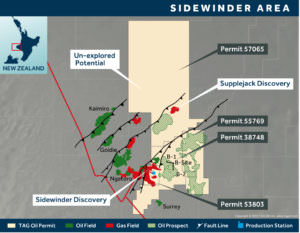 Testing of the Supplejack-1 well commenced on November 2, 2016 and tested at flow rates of over 7 mmscf/d before being restricted due to equipment constraints. Wellhead pressures during the test were sustained at over 1,000 psi. Testing of the well will continue in an effort to determine resource in place estimates, optimal production rates, and the most suitable commercialization strategy.
The Supplejack-1 well was initially drilled in 2005 and completed in what was identified by well logs as an oil bearing zone. However, the well failed to produce oil commercially and was subsequently suspended. Following a review of existing wells in TAG's portfolio, re-analysis of the logs identified the potential to recomplete the well in an upper zone interpreted to contain by-passed gas pay. Further, there are several exploration prospects nearby that may enhance the potential economics and expand the resource of this region.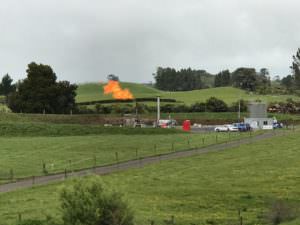 Toby Pierce, CEO of TAG Oil commented, "I am very pleased with the results of the Supplejack-1 well, which
once again demonstrates the potential to be unlocked from TAG's New Zealand assets. Following the recent recompletion in an oil bearing zone at the Sidewinder fleld, this is another low cost workover that may also successfully result in commerical production for TAG from what had previously been a suspended well. We are continuing to identify new opportunities in our Taranaki Basin assets, which have the potential for further production and reserves growth. With our recent acquisition of PL-17 in the Surat Basin of Australia, TAG is well positioned in two proven basins and continues to opportunistically seek ways to deliver accretive growth for shareholders."
About TAG Oil Ltd.
TAG Oil Ltd. (https://tagoil.com/) is a development-stage oil and gas company with extensive operations, including production infrastructure in the Taranaki Basin region of New Zealand. As one of New Zealand's leading operators, TAG is positioned for long-term reserve-based growth with attractive exploration activities in the lightly explored Taranaki-region discovery fairway. As a low cost, high netback oil and gas producer, TAG is debt-free and reinvests its cash flow into development opportunities and step-out drilling along trend with the Company's existing production.
For further information:
Chris Beltgens, Vice President, Corporate Development
Phone: 1-604-682-6496
Email: [email protected]
Website: https://tagoil.com/
Blog: www.tagoil.com/media-center/tag-oil-blog/
Cautionary Note Regarding Forward-Looking Statements:
Statements contained in this news release that are not historical facts are forward-looking statements that involve various risks and uncertainty affecting the business of TAG. Such statements can generally, but not always, be identified by words such as "expects", "plans", "anticipates", "intends", "estimates", "forecasts", "schedules", "prepares", "potential" and similar expressions, or that events or conditions "will", "would", "may", "could" or "should" occur. All estimates and statements that describe the Company's objectives, goals, or future plans relating to operations are forward-looking statements under applicable securities laws and necessarily involve risks and uncertainties. Actual results may vary materially from the information provided in this release, and there is no representation by TAG that the actual results realized in the future will be the same in whole or in part as those presented herein.
Other factors that could cause actual results to differ from those contained in the forward-looking statements are also set forth in filings that TAG and its independent evaluator have made, including TAG's most recently filed reports in Canada under National Instrument 51-101, which can be found under TAG's SEDAR profile at www.sedar.com. TAG undertakes no obligation, except as otherwise required by law, to update these forward-looking statements in the event that management's beliefs, estimates or opinions, or other factors change.