Will they or won't they? OPEC flirts with cuts
The word is out: In late September, OPEC producers agreed informally to reduce crude output by around 700,000 barrels per day. This cut will bring the production rate between 32.5 million and 33 million barrels per day.
"We will evaluate the market in Vienna by the end of November and if 700,000 barrels are not enough, we will go up. Now that OPEC is unified and speaks in one voice everything is much easier and if we need to cut by 1 percent, we will cut by 1 percent," Algerian Energy Minister Nouredine Bouterfa told Ennahar TV.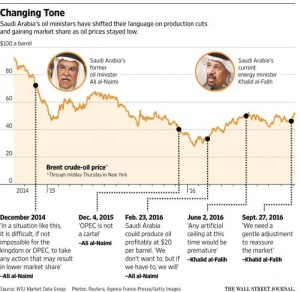 The reductions will fall heavily on Saudi Arabia, who is said to be cutting their output by roughly a few hundred thousand barrels. This is a big change in sentiment for the Saudis, who—since the oil price crash a few years back—have been against cutting production.
Meanwhile, oil producing giant Russia will be at an informal meeting with OPEC members in Istanbul next week to discuss potential cuts.
It's important to note that only a handful of OPEC members have agreed to the cut at this point in time, so we shouldn't assume that the deal struck in Algiers will stick. That we will find out in Vienna in November. OPEC has a history of changing its mind regarding production cuts, and Iran, Nigeria and Libya haven't yet given up trying to increase production. And, according to Reuters, "On Wednesday…Saudi Aramco appeared to move away from the idea of price stabilization when it said it was lowering the cost of Arab Light and other crude products for November delivery to Asian customers."
For now, however, the market is responding to the news positively, pushing oil prices up over $50.00. If the cut does occur, this will be the first cut since 2008. And it will lead to the inevitable oil price rise we've been waiting for, as the supply and demand finally balance yet again. We remain guardedly optimistic.