When Will Oil Prices Change?
Since we don't have a crystal ball, we can't say for sure when oil prices will resume their climb to normalcy. But we've frequently found ourselves in step with this knowledgeable, successful, irascible character, oil mogul T. Boone Pickens. And though his powers of prediction aren't perfect, maybe he's still a good place to look for an answer?
Back in early 2015, Pickens predicted that oil would be back to over $70 per barrel by year-end. Since 2015 has come and gone with no rise in sight, he hasn't changed his ultimate forecast, though he HAS adjusted the timing.
Pickens' recently stated that he was a year off in his projections, and he now forecasts that by the end of 2016 the market will move up once the world's supply of / demand for oil balances out – and once it starts, it will move fast. As of now, the oversupply sits at about one million barrels a day.
Reinforcing this projection is a statement that the chairman of Saudi Aramco, Khalid al-Falih, made in a recent interview. "It would take some time for the market to absorb the current crude surplus, but there would be 'noticeable' improvement during the second half of 2016 with demand rising by 1.2 million to 1.5 million barrels per day."
Khalid al-Falih also noted that Saudi Arabia, the world's largest oil exporter, does not want to eliminate shale oil, though they are looking for a more balanced international oil market to eradicate much of the current surplus.
As an interesting side note, in early 2016, Saudi Arabia announced that they would be cutting their diplomatic ties with Iran.
So if Pickens' and Fahil's predictions hold true, how can the smaller oil and gas companies survive? And how many will survive until the oil-price turnaround?
TAG Oil has more than a few positives to help us ride out the rest of this storm from a position of relative health. And this is a good time to continue to optimize existing wells through workovers, before we resume with our future exploration plans.
One of TAG's benefits is that we are in the top industry tier of production netbacks. One reason is that we receive premium Brent pricing for our oil, the others have to do with smart optimization and doing business in New Zealand. Here's a look at a few different netback scenarios for TAG: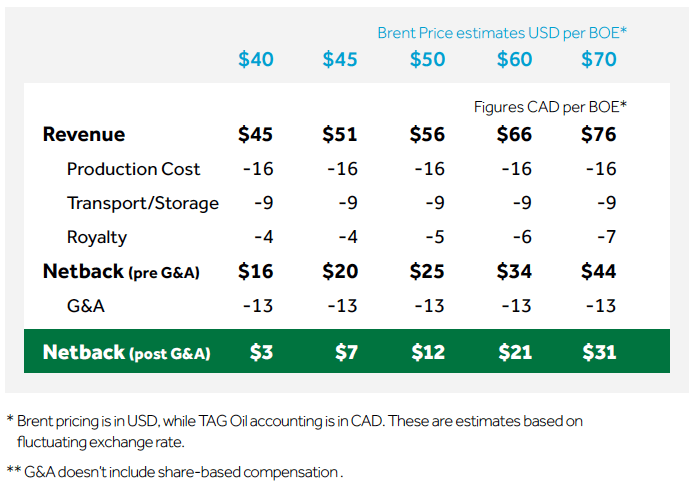 As a company that's been around through its share of economic cycles, we've seen these kinds of oil prices before. In the past decade and a half, oil has gone below $50 more than once, then recovered, then resumed its growth once again.
So TAG is playing its long game: remaining focused on increasing production, looking at potential acquisition opportunities in New Zealand and Australasia, all while managing our capital effectively and focusing on maximizing shareholder returns.
To see Pickens' interview, watch here >>.  (http://www.cnbc.com/2016/01/06/boone-pickens-to-cramer-oil-is-close-to-bottoming.htm)