What unexpected import boom is helping the recent surge in oil prices?
Both OPEC and IEA expected China to slow down their oil demand growth, but instead, they've ramped it up. In fact, last year, China surpassed the U.S. to become the world's largest oil importer, and 2018 is continuing the trend.
In previous years, China never exceeded imports of more than 37 million tons in a single month. But 2018 has broken that mold. China exceeded that amount in every month but February, and in April, their imports hit 39.46 million metric tons. If you compare that to a year earlier, it amounts to a 5.1 million ton increase, a growth of 1.2 million bpd.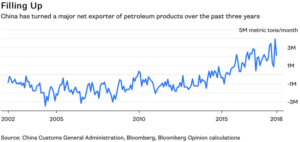 Why so much oil import growth? For starters, China's waning domestic fields do not produce enough to satisfy the demand, so the government is pushing the three state-owned producers to produce more gas, which in turn pushes the reliance on oil imports even higher. Second, as export quotas on refined products from China are lifted and relaxed, more imported crude is being converted to refined products, which are then exported. Morgan Stanley analyst Andy Meng estimates export quotas granted in 2018 already exceed the total for the whole of the previous year.
These factors are more than enough to offset China's slowing industrialization and growing electric car market. To read the full article posted on Bloomberg click here