The search for the right COO is over
We're happy to announce that Henrik Lundin has made the change from TAG director to TAG Oil Chief Operating Officer.
Moving on from ten years as reservoir engineer at Lundin Petroleum in Norway, Mr. Lundin will help lead the TAG team in New Zealand through their next phase of growth. It's a big move across the world, but a great opportunity for both Henrik and TAG Oil.
Henrik graduated with honors from the Colorado School of Mines, with a BSc petroleum engineering degree. He has put his knowledge to use in both onshore and offshore fields in a variety of countries including Syria and France, and will now deepen his experience with New Zealand and Australasia.
Henrik is focused and goal-oriented, with high ethical standards, and an excellent fit with the TAG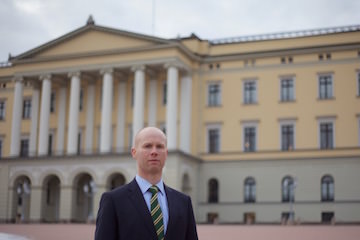 executive team, as well as the technical team with boots on the ground. Some of his vast technical skills include production forecasting, reporting, and delivering projects on time with good results.
"I'm excited to join TAG Oil and its team, and help to get the company ready for the recovery in oil prices. TAG is very well positioned with no debt, low cost production and good exploration targets ready to be drilled."
Henrik served as sergeant in the Amphibious Brigade Royal Swedish Navy in early 2000, and we look forward to enlisting his leadership skills here at TAG. (Seen here in front of the "Slottet," or the castle where the royal family resides in Oslo, Norway.)