The makings of an oil deficit
Unfortunately, the OPEC and Russia nine-month production cut extension underwhelmed the markets. And they were further disappointed that OPEC and Russia didn't commit to slashing even more barrels from the over-saturated market, which is currently about 350 million barrels above standard.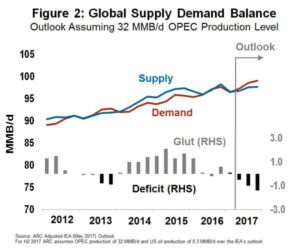 On the positive side, some of those extra barrels are going to be drained in the northern hemisphere as the summer heats up.  Saudi's oil needs increase in summer months by about 0.3 million bpd due to the power needed for air conditioning. 
Another use of the oil oversupply is summer travel in the U.S. The American Automobile Association (AAA) is predicting more motorists will hit the highway this year than ever. Memorial Day weekend already recorded a 12-year high for distance traveled.
In addition to increased summer consumption, the International Energy Agency (IEA) predicts demand will grow in the second half of 2017 by more than 1.9 million bpd, but it remains to be seen if that helps convince oil markets of the shrinking supply.
They haven't been persuaded that the oversupply will shrink, yet. But then again, they haven't predicted the uptick in any of the previous historic downturns either.