The IEA's world energy investment trends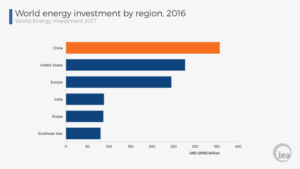 The IEA recently released their World Energy Investment, giving a good overview of the trends that occurred in 2016.
Here are a few of the stats that caught our eye:
Energy investment worldwide accounted for 2.2% of global GDP with an investment of just over $1.7 trillion.
For the first time ever, the electricity sector beats out the oil and gas sector for largest energy investment recipient. This can be attributed to falling unit capital costs as well as reduced drilling. 
Since 2014, there has been a 38% fall in capital spending, although this fall should bounce back slightly in 2017.
Investment in oil and gas still represent two-fifths of global energy investments.
The regions that are taking the tops spots for energy investment are China, the U.S. (mainly in the form of shale), Europe (10% decline), India (7% increase) and Southeast Asia.
Check out the great video that IEA provides, as well as detailed view of the trends here.