The Energy Commodity Price Turnaround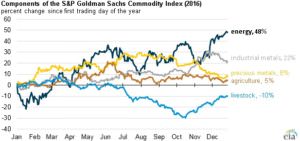 Energy commodity prices made a turnaround in 2016 and rose more than any other commodity sectors for the year.
The Spot Energy Index in the S&P Goldman Sachs Commodity Index (GSCI) rose 48% since the start of 2016; Industrial Metals had the second highest rise at 22%. The Energy Index typically follows major price movements in the crude oil market, as the two major crude benchmarks—West Texas Intermediate (WTI) and Brent—contribute to 69% of the weight in the S&P GSCI Energy Index.
The rise of oil prices follows two years of declines, which led prices to hit 13-year lows. The yearly high came in December after OPEC and non-OPEC countries alike announced significant production cuts.
Another factor contributing to the rise in energy commodities was natural gas, which saw the largest percentage increase in price due to a rapid increase of natural gas-fired electricity generation in anticipation of a cold winter.
The rise in crude prices is a breath of fresh air for TAG Oil and our peers: With the increase, we are finally able to begin preparing for exploration plans that have been on the backburner while oil prices were in a slump. These charts are showing great promise for crude in 2017!