TAG's near-term catalysts noted in a new investor "Top-Picks" report
Noted Canadian investment bank, M Partners, just released its Top Five Picks for 2014, and TAG Oil made the cut. The report highlights the up and comers on the firm's investment radar for the year ahead, and each of the five companies profiled is expected "to lead their respective universe of coverage over the course of the year."
So, what do they like about TAG Oil?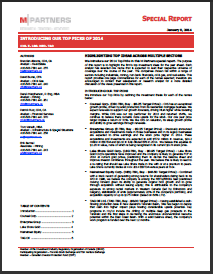 They appreciate TAG's strategy of establishing its cash-flowing production base in Taranaki to fund the search for higher impact, deep gas plays with considerable upside potential.
And that the production income from our shallow, producing Taranaki fields has led to a solid balance sheet which also "de-risks" the enormous unconventional resource potential in TAG's East Coast Basin permits, plans for which are advancing in 2014.
They report that TAG shares currently trade at 2.2x EV/EBITDA (calendar 2014), which is a significant discount to its Southeast Asian/Australasian comps at 2.9x.
In their words, "Underlying our Buy rating is the attractive valuation and significant production growth trajectory, driven by the high-impact deep gas Taranaki program now underway and funded by the solid balance sheet and cash flow from its shallow Taranaki production base."
We couldn't have said it better ourselves.