TAG Oil is planning to expand to Oz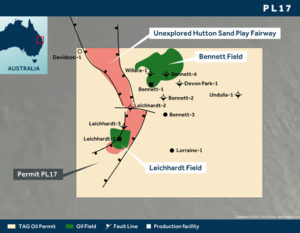 The first step towards expanding operations into Australia has begun.  TAG Oil, through its subsidiary Cypress Petroleum, has signed a definitive asset purchase agreement with Southern Cross Petroleum & Exploration to acquire 100% interest in Petroleum Lease 17 (PL17).
After analyzing several acquisition opportunities in Australia, PL17 sparked our interest for many reasons, and ultimately became our acquisition of choice. Covering 104 km2 (25,700 acres), the permit is located in Queensland's Surat Basin, Australia's oldest producing basin. It's a commercially proven area with production infrastructure nearby, and it sits about 20 km from the Moonie Oil Field, which has produced 25 mmb to date. Needless to say, we are excited about the potential of the area.
Two discoveries, Bennett Field (160mb to date) and Leichardt Field (150mb to date) on PL17 have been producing on and off for the past 50 years.  Leichardt is currently shut-in, but Bennett has current production from two wells of approximately 15 b/d of light oil similar to oil found in the Taranaki Basin.  PL17's primary conventional opportunity is through its Permian Oil play and a work program will be designed to enhance the understanding of the reservoir's properties. PL17 is only lightly explored, and TAG sees great benefits to applying modern 3D seismic to identify and commercialize bypassed pay and additional oil accumulations.
Completing this acquisition would be another exciting corporate milestone for TAG Oil, providing asset diversification in another stable country as well as adding to our portfolio of opportunities.  While our commitment to New Zealand remains as strong as ever, we view the addition of PL 17 as very complementary.