TAG Oil grows in Taranaki with the Puka Oil Field & Shannon Prospect
We were excited to share the news in Monday's press release that TAG Oil had acquired a 70% Interest in Permit 51153, which contains the Puka Oil Field and the high-impact Shannon Oil Prospect. Puka was first discovered in 2012, at which time it produced 100 barrels of oil per day until its eventual shut in due to low oil prices and mechanical issues.
TAG Oil procured this permit in a liquidation sale from cash-strapped Kea Petroleum during the disposal of their interests in Taranaki exploration. Due to the nature of the sale, we believe we got more than we paid for at a price NZ$250,000. We are also excited to start a strong relationship with our 30% joint venture partner MEO Australia Limited.
About the Permit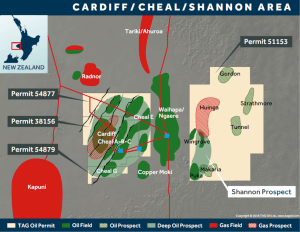 Spanning approximately 85 square km (21,000 acres), the Puka permit sits in the Mt. Messenger formation, located just 7 km from TAG's producing Cheal oil fields.
Not only does this acquisition immediately provide additional production to TAG Oil, but it also has several exploration targets. There is also the Shannon prospect, which underlies the Puka oil pool. Shannon is a deeper Tikorangi Limestone formation (below the Mt. Messenger formation). Productivity of the Tikorangi Limestone has been demonstrated by the over 23 million barrels of oil produced to date at the adjacent Waihapa oil field, at the edge of the Shannon prospect.
The Douglas-1 well drilled in 2012 at the edge of the Shannon prospect encountered 145 meters of reservoir interval and oil shows, in a down-dip location with more than 350 meters of up-dip potential estimated
TAG Oil looks forward to starting the work program. We have committed to a low initial CAPEX of NZ$75,000 which will focus on gathering data for the completion of the commitment to drill one well on the Puka permit by early 2018. And we look forward to the new partnership, and the new opportunity that Puka adds to our portfolio. With the added production and the increased excitement around exploration and the Shannon prospect, we are eager to sit down with MEO Australia to begin implementing a work program.
Puka / Shannon Cross Section