TAG attends the Capital Events Conference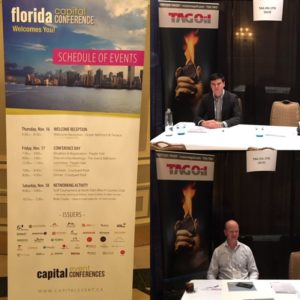 TAG Oil's recent attendance at Capital Event's 2017 Florida Conference in West Palm Beach, marks another successful marketing event for the Company.
Over a busy three days, Pino Perone (Corporate Secretary and General Counsel) and Chris Beltgens (VP Corporate Development) had the opportunity to meet with a variety of investors and peers in the resource industry. This was TAG's second year at this event, so we also reconnected with contacts made at last year's conference.  
Pino and Chris had 18 one-on-one meetings with small cap resource investors, and engaged in one of our favorite activities: catching up with a number of shareholders in person.
TAG also participated in Capita Event's Scottsdale conference last April, and is looking forward to returning in 2018.