Student and future oil and gas professional Cody Brown
Recently we had Cody, a summer student from the University of Auckland join the TAG team.  We thought it would be best if you heard straight from Cody what it was like to work with TAG.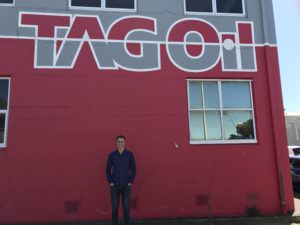 I am entering my fourth year of my Chemical and Materials Engineering (Honours) degree at The University of Auckland. My family and I all reside in New Plymouth, so the opportunity to work in my hometown and New Zealand's oil and gas hub was very helpful. The ability to gain work experience on oil and gas engineering projects through TAG Oil has been extremely valuable to me so far.
I was initially hired for the 2015/16 summer break, where I worked primarily with the Operations Team and completed a wide range of tasks of varying complexity and nature. I later returned for the 2016 winter mid-year break for an additional three weeks. Over the recent 2016/17 summer break I worked mostly with the Petroleum Engineering Team, where my work focused on both Productions and Drilling and Completions.
In my most recent term I completed three main projects:
First, I was tasked with completing a comprehensive well history document detailing the completion changes to each of the company's wells. This was a valuable project for all groups within the company. I learned a significant amount about the various procedures of drilling, completing, and producing wells from this relatively large task whilst also gaining a significant appreciation of the overall life cycle of wells.
I was also tasked with investigating the best practices of drilling Pukatea-1 with analysis of the close-by Waihapa wells. The emphasis of my studies was placed on minimizing the highly expected lost circulation events. This was an incredibly interesting but challenging project which required critical thinking and gave me yet another opportunity to learn a great amount about Drilling and Completions Engineering, as well as the associated issues this engineering field often faces.
Additionally, I observed the rig up operation for the Supplejack A2X appraisal well and was tasked with performing a Time and Motion Study. This was an excellent project for me and gave me the perfect opportunity to see rig operations first-hand.
TAG Oil provides me with excellent insight to the petroleum industry and all the related aspects through my work with the company so far. I believe the skills and knowledge I have accumulated will be beneficial as I continue to develop into a professional engineer in the petroleum industry. I appreciate the overall understanding of the industry that I have acquired as a result of my work experience with the company, as well as the technical skills that have complemented my university studies. TAG Oil also provides me a learning environment in which I am able to significantly grow as an engineering student whilst producing meaningful work for the company.
Working with the Petroleum Engineering Team at TAG Oil over my most recent term has been a great inspiration resulting in a desire to pursue further education in Petroleum Engineering. I now hope to complete a Master's degree in Petroleum Engineering following the completion of my Honours degree.
Thanks for all your hard work Cody and we wish you luck in the upcoming school year!