Progress in the field
As OPEC production cut talks continue to swirl, the TAG New Zealand team continues to stay busy with a series of workovers. And here are some pictures to prove it!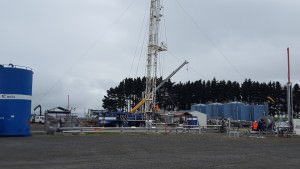 In the picture, you can see a Workover rig running the downhole ESP (electric submersible pump) into our new water well. The new well and pump provide water to the Plant for our greater waterflood scheme, planned over a number of wells in Cheal in the coming months. This was also the final piece in the puzzle to commission the first waterflood project on Cheal-B3, which was successfully commissioned at the completion of the workover.
These next images portray the short operational turnaround on the plant. This is an intensive, planned shutdown to accomplish a variety of projects in a short amount of time, 36 hours in this case. Several months of planning by the operations group went into this, to ensure the maximum amount of work could be achieved within the minimum amount of time, all while the workover rig carries on operations.
The turnaround was designed to support the tie in of a number of smaller plant improvement and maintenance projects, to service the majority of our large equipment and to shut in pressure build ups on a number of wells to better understand reservoir characteristics.
The day was a success, injury- and problem-free, and with more than 80 work packages completed within the 36-hour window. The photos show several of the work fronts on the day, as well as the shutdown team status meeting midday.