Oil prices dip, but optimism stays up
The current dip in oil prices hasn't got us down, and it hasn't negatively affected other oil executives either, it seems.  A team of strategists led by Peter Hackworth at Goldman Sachs Group Inc. reviewed fourth quarter earnings to see how oil companies are handling the ongoing oil price downturn, and the general feel was one of optimism.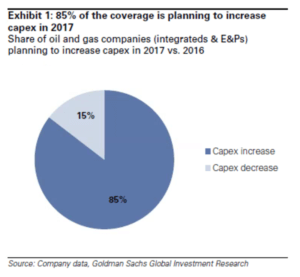 The Goldman Sachs team estimates 85 percent of companies they cover are planning to increase capital expenditures this year, adding that, "…most CEOs believe that the worst is over, and the time for growth is now, while some management teams expressed more caution than others, the industry as a whole is retooling."
Most executives feel the worst is over and have used the downturn to tighten up costs.  And although the downturn has lasted nearly three years, we like to quote Winston Churchill: "A pessimist sees the difficulty in every opportunity; an optimist sees the opportunity in every difficulty." 
Check out some quotes that the Goldman Sachs team collected:
Schlumberger Ltd. CEO Paal Kibsgaard was most definitive in saying we've hit the bottom. "Recovery is on its way in all markets."
Halliburton Co. CEO David Lesar was bullish on M&A for the industry: "In 2Q…customer animal spirits were back in North America. Last quarter…these animal spirits were alive but somewhat caged up. Now these animal spirits have broken free and they are running."
BP Plc. CEO Robert Dudley also spoke to new spending in the firm's latest analyst meeting. "2017 is one of the largest years for commissioning new major projects in our history."
Read the full article and more executive quotes on Bloomberg here.