Oil futures display inverse head and shoulders pattern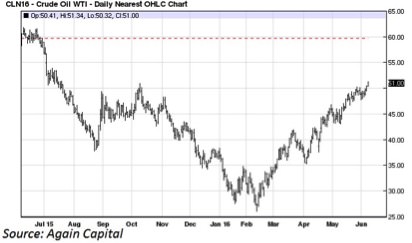 West Texas Intermediate crude futures are experiencing what analysts refer to as an inverse head and shoulders pattern, said to be one of the most reliable and common reversal formations. This pattern occurs after a downtrend – similar to what the oil market has recently experienced – and generally signifies a major reversal of the previously down trending oil prices when complete.
As the chart to the left shows, the price of oil has been gaining momentum, with WTI futures trading above $51 per barrel for the first time since July 2015. This higher price is reflective of supply disruptions, compounded by the weaker US dollar and lower inventory levels in June.
"The market continues to trend higher in a nice channel, and nothing seems to be snapping it out of it, if you look at the channel from $26 up to $50, you would think the fundamental picture has changed significantly," noted Tradition Analytics broker and analyst, Gene McGillian.
Technical charts often indicate future price trends, barring unforeseen catalysts. TAG Oil is focused on what is within our control, with continuing attention to growth, reserves, production levels, maintaining a clean balance sheet, and ultimately, shareholder value.
Click here to read the full article by CNBC and find out in detail why "Oil's chart is sizzling, even if its fundamentals are not."