TAG Oil Reports Strong Third-Quarter Results and Operational Highlights
Vancouver B.C. – March 1, 2011 – TAG Oil Ltd., a New Zealand-focused oil production and exploration company listed on the TSX Venture Exchange in Canada (trading symbol "TAO"), is pleased to provide an operational update, and to advise that the Company has filed its third-quarter financial report for the period ended December 31, 2010. All figures are in Canadian dollars unless otherwise noted.
TAG Oil Recent Highlights:
Q3 production revenue of $3.85 million, up 60% over last quarter (nine months: $8.08 million up 71% from same period last year)
Net operating profit of $2.1 million, more than double over last quarter (9 months: $3.8 million up 64% from same period last year)
$74.3 million in working capital, no debt
Sidewinder-1 discovery well achieves strong flow rates of 1300 to 1600 barrels of oil equivalent per day
Strong results achieved from the Cheal-BH-1 horizontal well of 400 to 500 barrels of oil equivalent per day
TAG completes acquisition of 20% interest in the Kaheru Prospect with significant resource potential led by a subsidiary of Australian-based Roc Oil Company Limited
Aggressive Taranaki Basin drilling campaign underway, targeting near-term reserve and production growth
Taranaki Basin Operations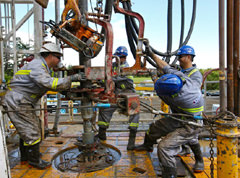 Following the strong results achieved with the Sidewinder-1 oil and gas discovery and the Cheal-BH-1 horizontal well, TAG Oil has initiated an aggressive drilling campaign that will further exploit these  prolific shallower formations identified across the Company's Taranaki Basin acreage. These wells will target both the main producing Mt. Messenger (~1800m) and the shallower Urenui (~1400m) formations. TAG's goal with this drilling campaign is to build near-term reserves and cash flow prior to drilling operations on the deeper Taranaki targets, such as the condensate-rich Cardiff gas discovery. 
Cheal Oil and Gas Field – 100% Interest
The Cheal field is continuing to perform as anticipated, producing approximately 840 barrels of oil equivalent (BOE) per day. Production capabilities are being intentionally "choked back" for the time being, to facilitate drilling operations underway within the field.
The production test continues on Cheal-BH-1, the first horizontal well drilled into the Mt. Messenger Formation in New Zealand. Initial testing, using a conservative range of low draw-down configurations, achieved production rates ranging from 400 to 500 BOE per day (predominantly oil with no water). TAG recently re-entered the Cheal-BH-1 and perforated an additional 225 meters of pay and wireline work, conducted after the perforation confirmed production flow from the lateral section was being constrained by fracture sand and perforation-gun debris. A routine coiled tubing workover has been scheduled to clean out the debris within the production tubing and further production capabilities from the Cheal-BH-1 will be assessed upon completion of the workover. 
Sidewinder Oil and Gas Field – 100% Interest
TAG Oil's Sidewinder-1 discovery well is expected to commence first production by mid-2011, with estimated initial production of 8 to 10 million cubic feet of gas per day (1300 to 1600 barrels of oil equivalent per day). Construction of the Sidewinder Production Station, including a 3-km pipeline link into New Zealand's main gas transmission grid is underway: This new facility will accommodate oil and gas production from Sidewinder-1, as well as future Sidewinder wells and any new exploration successes arising from the active drilling campaign underway in the Sidewinder permit area.
East Coast Basin – 100% Interest
TAG continues to move towards an exploration drilling campaign on the North Island's east coast, targeting widespread fractured oil shale prospects and conventional targets at depths ranging from 250 to 2000 meters. Several shallow stratigraphic core wells are being drilled to help further define depths and optimal drilling locations where the Waipawa Black Shale and Whangai Shale formations will be intersected. These oil-rich, naturally fractured formations compare favorably to fractured shale formations such as the Bakken Shale in the Williston Basin, and have been independently assessed to have significant undiscovered resource potential.
Summary of Third-Quarter Results
The Company recorded production revenue of $3.85 million (nine months: $8.08 million) and a net loss for the three-month period of $260,240 (nine month loss: $649,624). Expenditures on the Company's oil and gas properties during the quarter totaled $7 million (nine months: $12.3 million) relating primarily to drilling, testing and completing the Sidewinder-1 and Cheal-BH-1 wells. 
Liquidity and Capital Resources
The Company ended the third quarter of the 2011 fiscal year with 49,457,841 shares outstanding (57,066,060 fully diluted) with no debt, $74.38 million in cash and $74.3 million in working capital. 
This news release summarizes the Company's 2011 third-quarter results of operations and financial condition and should be read in conjunction with its Quarterly Report, which contains unaudited consolidated financial statements and Management's Discussion and Analysis. Copies of these documents can be obtained electronically at: www.sedar.com or through the Company's Financial Reports. 
Contact:
Dan Brown or Garth Johnson, TAG Oil Ltd. 1-604-682-6496
Website: https://tagoil.com/
Important Information:
Undiscovered Hydrocarbon-In-Place (equivalent to undiscovered resources) is that quantity of petroleum that is estimated, on a given date, to be contained in accumulations yet to be discovered. There is no certainty that any portion of the undiscovered resources will be discovered or that, if discovered, it will be economically viable or technically feasible to produce them.
"BOEs" may be misleading, particularly if used in isolation. A BOE conversion ratio of 6Mcf: 1 Bbl is based on an energy equivalency conversion method primarily applicable at the burner tip and does not represent a value equivalency at the wellhead.
Cautionary Note Regarding Anticipated Results and Forward-Looking Statements:
Statements contained in this news release that are not historical facts are forward-looking statements that involve various risks and uncertainty affecting the business of TAG Oil. These statements are based on certain factors and assumptions including those relating to TAG Oil's successful exploration and development of its oil and gas properties within the Cheal and Sidewinder project areas, the production and establishment of additional production of oil and gas in accordance with TAG Oil's expectations at Cheal and Sidewinder, oil and gas price assumptions and fluctuations, foreign exchange rates, expected growth, results of operations, performance, prospects, evaluations and opportunities and effective income tax rates. While TAG Oil considers these factors and assumptions to be reasonable based on information currently available, they may prove to be incorrect. Actual results may vary materially from the information provided in this release, and there is no representation by TAG Oil that the actual results realized in the future will be the same in whole or in part as those presented herein. 
TAG Oil is involved in the exploration for and production of hydrocarbons, and its property holdings-with the exception of the Cheal Oil Field and Sidewinder-1 project area-are in the grass roots or primary exploration stage. Exploration for hydrocarbons is a speculative venture necessarily involving substantial risk. There is no certainty that the expenditures incurred on TAG Oil's exploration properties will result in discoveries of commercial quantities of hydrocarbons. TAG Oil's future success in exploiting and increasing its current reserve base will depend on TAG Oil's ability to develop its current properties and on its ability to discover and acquire properties or prospects that are producing. But, there is no assurance that TAG Oil's future exploration and development efforts will result in the discovery or development of additional commercial accumulations of oil and natural gas.
Other factors could cause actual results to differ from those contained in the forward-looking statements related to upcoming operations, production forecast modeling and other items that are set forth in, but are not limited to, filings that the TAG Oil and its independent evaluator have made, including the TAG Oil's most recent reports in Canada under National Instrument 51-101.
Neither TSX Venture Exchange nor its Regulation Services Provider (as that term is defined in the policies of the TSX Venture Exchange) accepts responsibility for the adequacy or accuracy of this release.