Dairy farmer talks about TAG Oil partnership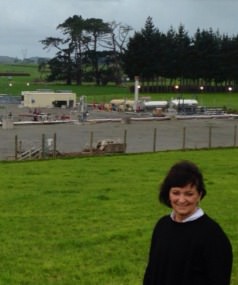 In the business section of www.stuff.co.nz (Stuff is a New Zealand-based news site), Taranaki dairy farmer Jane O'Neil talked about leasing 1.5% of her dairy farmlands for oil wells: TAG OIl's Cheal E well, to be exact. As quoted in the interview:
"I was given a detailed explanation of the drilling process, including diagrams on how oil is drilled, how wells are sealed, and their safety and environmental practices. It was a fascinating experience as I had no knowledge of how oil is extracted from the ground."
Upon TAG reaching out in 2012, Ms. O'Neil's personal network chimed in with advice that, in her words, was mainly ill informed and negative without real information and details. So she did her own due diligence with the help of a lawyer and land valuer. She met team members from TAG's New Plymouth office and walked the farm with our managers, engineers and geologists to really understand the process and impact.
Left to her own time and decision making, Ms. O'Neil agreed to a lease and it's been a cooperative partnership ever since. In addition to constructing the Cheal E well-site, TAG widened and tarred the road to two lanes, and even did a few chores around the farm. "As a favour to me and free of charge, TAG dismantled a disused old cow shed and pushed over four huge old macrocarpa trees. They also dug a large new dump hole, leveled out a paddock and my tanker track entrance was tarsealed."
Farming and oil exploration have co-existed in Taranaki for decades, and TAG Oil is doing its part to keep the relationship respectful and mutually beneficial. Read the full interview here >>