Stressed out over the new world order
Last week in Houston, Texas, the global energy industry's most influential players gathered for the 35th Annual IHS CERAweek (CERA: an acronym for Cambridge Energy Research Associates).
Much like the big banks gather for the World Economic Forum at Davos, Switzerland each year, the world's energy leaders (from technology, financial, industrial, governmental and academic communities) gather annually to discuss not just oil, but the entire global energy industry. This year, CERAweek's intent was to: "In a time of turbulence and uncertainty…help navigate and lead through the cycle and to identify the factors that will be critical to shaping the new business environment and assuring the world's growing energy requirements."
We are indeed in a phase of uncertainty, and everyone wonders when things will improve. We can all predict, but prediction is often a fool's game.
As many of you know, TAG has taken – and will continue to take – the necessary steps to keep our company strong. But are we the exception to the rule? It seems that for those around us, the modus operandi has been fear and confusion.
In the week leading up to IHS CERAweek, Dan Murtaugh published on article that exposes much of this fear and uncertainty. His article, entitled, "The Stressed-Out Oil Industry Faces an Existential Crisis," gives voice to the uncertainty that's infiltrated so much of our industry. Whether it's the deflating price of oil or the seemingly endless influx of data on crumbling companies, it's hard not to question some of our industry's fundamental beliefs and tactics. As one market analyst put it, "I have more conviction in my five-year outlook than my one-year outlook… this is a weird thing for a market analyst to say because it's usually the opposite case."
According to Murtaugh, some industry insiders have deemed this the New World Order of Oil, "full of stresses, strains, and fractures."
So, how are we experiencing a 'New World Order'?
Well, there is definitely fear, insecurity, and uncertainty at present. Murtaugh's article expands upon the idea that the identity of the industry is in limbo. He posits that, "the countries of OPEC… are experiencing (an) existential crisis." Then there are the Saudis, the world's top oil exporter. What the Saudis do within OPEC has huge consequences internationally. When a country's main source of GDP is oil, the current low price per barrel can decimate a country's identity on the global stage.
Another factor affecting the industry's identity (at both the national and global level)? U.S. shale drillers. As Murtaugh puts it, "U.S. shale drillers (have) had a key role in bringing prices (this) low, by adding 4 million barrels a day in less than four years—almost like a new OPEC member materializing overnight."
"The Saudis may go public, OPEC's in disarray, the U.S. is suddenly a global exporter, and shale drillers are seeking lifelines from investors as banks abandon them." Crazy times indeed.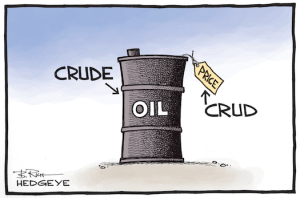 With all of this disruption, it's easy to feel burdened, discouraged, overwhelmed, and to jump on the fear bandwagon. So remember to step back and refocus every once in awhile. We don't need to reconcile all aspects of the oil industry within ourselves; we don't need to follow every facet of the industry in order to make smart decisions and actions. Whether we're investors, employees or owners, we can choose to focus on the truism that oil prices ebb and flow over cycles of time. That the market value will eventually rebound. That even with our greener goals and technology, oil is necessary in the world. And we can choose to focus on operational adaptations to ensure long-term survival. TAG for example, continually takes the steps necessary to weather this storm.
There will be more crazy statistics, more depressing data. So let's stay diligent about what we focus on. Let's stay close to people and companies that elevate and inspire instead of getting carried away by fear.
If you want to read Murtaugh's article, it's here on Bloomberg Online: The Stressed-Out Oil Industry Faces an Existential Crisis.  (Just promise you won't let it stress you out too much.)