Lifting the shares of oil and gas exploration companies?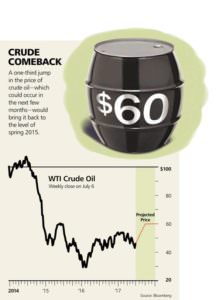 Could sentiment towards oil be shifting? As demand exceeds supply, Citigroup Senior energy analyst Eric Lee sees oil rising by 35% later this year, heading to $60.  Featured in Barron's, Lee had foreseen the current drop when oil was over $100 a barrel. 
In fact, he believes the main culprit for the continued oil low is the struggle to understand the cross-current effects in the oil market between the bearish over-reaction to U.S. shale output and over-optimism to OPEC cuts (which were, in fact, less than expected due to ramping up of output during negotiations leading to a surge in inventories when the cut was supposed to start.)
Long positions were liquidated, sparking a selloff. From record highs, net-long positions held by large speculators have contracted to record lows. And WTI fell back to $43 in late June.
So, what are Lee's reasons for becoming an oil bull?
The supply/demand balance should tighten due to constructive factors as seen by data. Specifically, when global stocks decline it shows demand is exceeding supply.
OPEC supply cuts are removing 0.7 million barrels a day from the markets.
Demand is rising on a global level, mainly in developing economies. Lee estimates demand at 97.3 million barrels a day in 2017, up from 96 million in 2016.
Shale producers may block $100 oil, but persistent tightness from the decline of stocks may provide a quick $10 rise from current levels.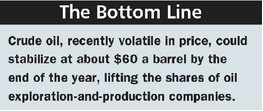 With oil prices at these levels it is hard not to be an oil bull, and it's good to know that respected energy analysts agree that the inevitable rise in oil has begun.
Check out the article (subscription needed) featured in Barron's, titled Oil Prices Could Rise by 35% Later This Year »