Introducing the world's newest continent…Zealandia!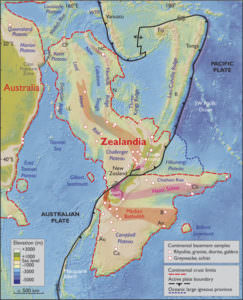 Welcome the world's eighth continent, Zealandia, which New Zealand calls home.  Zealandia is a 4.9 million sq km land mass submerged in the Southwest Pacific, sitting close to—but not joined with—the continent of Australia.  Although most of Zealandia is submerged below sea level (fully 94% is underwater), the parts that are revealed and populated include New Zealand, New Caledonia, Norfolk Islands, Lord Howe Island Group. (Elizabeth and Middleton Reefs are above sea level but not populated.).
Geophysicist Bruce Luyendyk first discovered and named Zealandia in 1995, but he thought of it as continental islands and fragments. But after more than a decade of study, The Geological Society of America states that it is a proper continent, supported by elevation, geology, crustal structure and limits and area. 
Despite now being the smallest continent on earth—it's only half the size of the U.S. or Canada—Zealandia is a plate unto itself. And researchers are quick to add that, "The scientific value of classifying Zealandia as a continent is much more than just an extra name on a list. That a continent can be so submerged yet fragmented" makes it useful for "exploring the cohesion and breakup of continental crust." 
It's hard to say what exactly the recognition of Zealandia mean for oil and gas in New Zealand. We already know that New Zealand is recognized as having great untapped oil and gas potential, and this potential only becomes larger as Zealandia's landmass is exposed.
To learn more click here.