IEA warns of future supply problems
According to the IEA's (International Energy Agency) annual report, investments in oil and gas development are set to fall another 24% in 2016, on the heels of a 25% fall in 2015. If this prediction is true, this will mark the first time oil and gas investment has fallen three consecutive years. U.S. shale producers have shown the largest spending slide, down 52% over the past two years.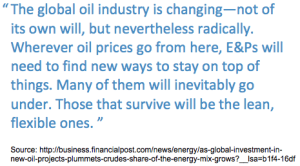 The lower investments being put forth are mainly spent on replacing depleting supplies. These cost reductions and lack of exploration spending haven't shown their full effect yet, but supply shortages and increased price volatility could be seen in the future.
The IEA stated, "Substantial investment is essential to maintaining supply security even as macroeconomic and energy policy developments slow demand growth globally."
Although there seems to be consumer appetite for fuel-efficient and electric cars, oil consumption has grown over the past year. Accordingly, oil accounts for the largest portion of global energy investment, at 45%, compared to the 37% spent on electricity generation.
As the global oil industry is ever changing, we are all left to wonder what will happen to oil supplies with these dragging low prices and low investment in exploration and development. For now, we continue as we have the past few years, planning for this low oil price environment and hoping for the speedy return of the inevitable higher priced one.