HSE Compliance with Melanie Sole
At TAG Oil, we strive to maintain the highest standards in health, safety and environmental compliance (HSE), as well as to positively contribute to the communities we operate in. But what does that mean on a day-to-day basis?
We have a Health Safety and Environmental Management System (HSEMS) in place, developed to ensure any adverse health, safety and environmental impacts of our operations are minimized and corrected. The HSE Management System ensures we achieve both policy objectives and commitments, and through a continuous improvement cycle, we know that appropriate action will always be taken to address any hazards or risks that are identified along the way. This means we're continuously tracking and improving overall performance.
In addition to adhering to legal requirements and regulations, TAG Oil's very important core values, corporate policies and procedures are compulsory, and all of our operated sites are required to implement them as part of our HSE program.
As HSE, Risk and Compliance Manager at TAG Oil, Melanie Sole is our internal expert on this matter, and she has kindly offered to provide her take on our HSE program.
1.  Melanie can you tell me about your background experience in HSE, and about your current position with TAG, including what your typical day is like?
I hold a Graduate Diploma in Occupational Safety & Health, and a Diploma in Health and Safety Management. Over the last 18 years I have held a variety of HSE roles, all based in Taranaki. Prior to my current appointment at TAG Oil, I worked for Australasia's leading integrated energy company, New Zealand's leading energy generator and retailer, a multi-network infrastructure company, a methanol manufacturer and an international petroleum exploration and production company.
There really isn't a typical day in HSE, which is one of the reasons I've chosen this career path! Some of the regular activities I'm involved in include: development and revision of HSE procedures, incident investigations, compilation of HSE plans for projects, management of drug and alcohol testing programme, facilitation of risk assessments, and HSE reporting (internal and external).
2. We mention TAG's core values above. Maybe we should take a minute to outline what those are for our readers.
TAG's Vision, Core Values and HSE Policies demonstrate the overall purpose, commitment and culture of TAG. TAG's key Core Value is 'Safety First' which is about keeping our people safe, community and environmental safety, doing the right thing, managing our risk, complying with the rules.
TAG's other Core Values equally set the tone and purpose of the HSEMS, as well as guiding our people and management in their daily lives and long-term decision-making. They are:
–     Do the Right Thing
–     Plan Smart
–     Make it Happen
–     Reputation is Everything, and
–     One Team
3. Can you provide a brief description of the HSE management system and how HSE relates to the oil and gas industry?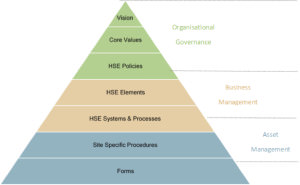 TAG's HSEMS applies to all health, safety and environmental compliance-related matters arising out of all TAG-controlled activities and operations. It also includes the impact of those activities and operations on employees, contractors, the environment and communities in which TAG operates.
TAG's HSEMS is structured utilizing a top down, bottom up hierarchical approach, ensuring two-way communication throughout the organization.
The structure of TAG's HSE Management System (HSEMS) aligns with international management system standards such as AS/NZS 4801 and OHSAS 18001 (European equivalent to 4801), ISO 14001 (Environment) and IOGP (International Association of Oil and Gas Producers) guidelines.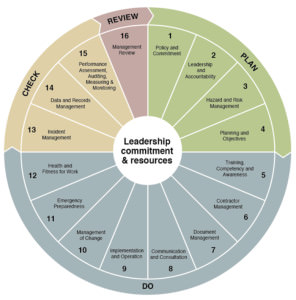 What people really need to know though, is that the HSEMS is designed on the principals of continual improvement. It adopts the methodology of: Plan, Do, Check and Review, with a total of 16 elements, grouped within the four continual improvement phases.
With a primary core value of "Safety First" and Melanie at the helm of TAG Oil's HSE, Risk and Compliance, it's obvious we're committed and proactive in our ongoing efforts to keep our people and operations safe for the sake of the community and environment.