Historic downturns of WTI Crude Oil
I find this graph interesting for a few reasons. First of all, based on previous oil price crashes, it appears that we're at the bottom of this current cycle. The only problem I have is that the current oil market remains oversupplied. It will ultimately get absorbed, without a doubt, and although there are a new set of dynamics, this oversupply is only about a quarter of the oversupply of the previous price crashes.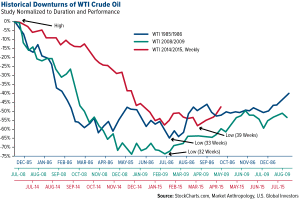 It is also interesting to note that whenever oil prices have crashed over the past 50 years, they've always rebounded to hit new trading highs. For smaller oil companies such as TAG, it's about the duration of the down cycle and the ability to survive and navigate through the storm. TAG is poised to do both, whether or not this current rise in oil prices is sustained. I hope it is, but either way, I'm confident in a rebound that will be very beneficial to oil producers. 
Alex Guidi, Chairman