Future oil supply: is abundance guaranteed?
"Most investors and analysts assume—perhaps unconsciously—that future supply will be more abundant than present supply. What if they are wrong?" 
Art Berman, noted energy specialist, geological consultant, and keynote speaker, recently published an article in the Petroleum Truth Report talking about oil prices, consumption, comparative inventory and exports and the Brent/WTI Spread.
In it, he writes (among other things) about how U.S. oil over supply will be coming to an end due to increased exports. And as prices rise, more production will come from E & P companies, causing a rollercoaster ride on the path to oil price recovery.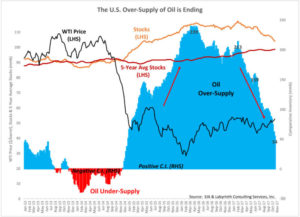 "The path to price recovery will not be straight. The elegant interplay between higher oil prices, credit and the impending threats of over-supply and under-supply will continue.  In the medium term, we will learn whether tight oil plays in fact have sufficient reserve potential to meet global supply needs. My guess is that they do not."
To read the full, excellent article, click here.
Mr. Berman has contributed to numerous publications, and has been interviews on CNBC, CNN, CBC, BNN, OilPrice.com, Bloomberg, Platt's, Financial Times, and New York Times.