ERC Equipoise Oil Price Review Report – 2017 Q2
ERC Equipoise has released their newest oil price review for Q2 2017, and with their consent, TAG Oil is able to offer this report to its followers.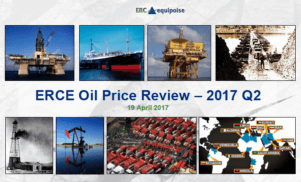 Through ERCE's extensive review of historical, recent and current oil and gas prices, they look at global macro indicators influencing trends. They also take in the views presented by other petroleum consultants and analysts.
The report helps investors understand oil market fundamentals and trends, and gives a look into oil price assumptions by not only ERCE, but by forecasts from the SEC and other oil analysts.
Here are some highlights. Or you can download the full PDF here with a quick signup.
Some of OPEC's biggest oil producers are now targeting $60/bbl as the level where they want to push crude prices
Others believe that oil prices will remain range bound trading in the mid-$50s for an extended period as U.S. crude inventories have continued to rise since the start of the year
Shale producers have become more efficient at weathering the prolonged energy downturn, and the industry is reporting lower break-even prices
U.S. rig counts continue to climb
Saudi's cuts have not drained global oil inventories down as fast as expected