ERC Equipoise Oil Price Review Reports – 2018 Q2
We're pleased to announce the Q2 2018 ERCE Oil Price Review is now available.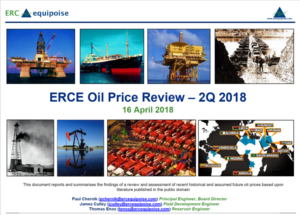 This quarterly report, which ERC Equipoise has allowed TAG Oil to share with its investors, provides oil market fundamentals and trends, as well as a look into oil price assumptions presented by ERCE and other petroleum consultants, analysts and agencies.
In addition to some of the global macro indicators influencing oil trends and oil and gas prices, some report highlights include:
Brent Oil hitting $70 bbl for the first time since late 2014
Short positions on oil falling to their lowest level in years, and
Liquid fuel consumption topping 100 MMbbl/d in early 2018
We are happy to offer this report to our shareholders with the permission of ERC Equipoise. Enjoy.