ERCE 2016 Oil Price Review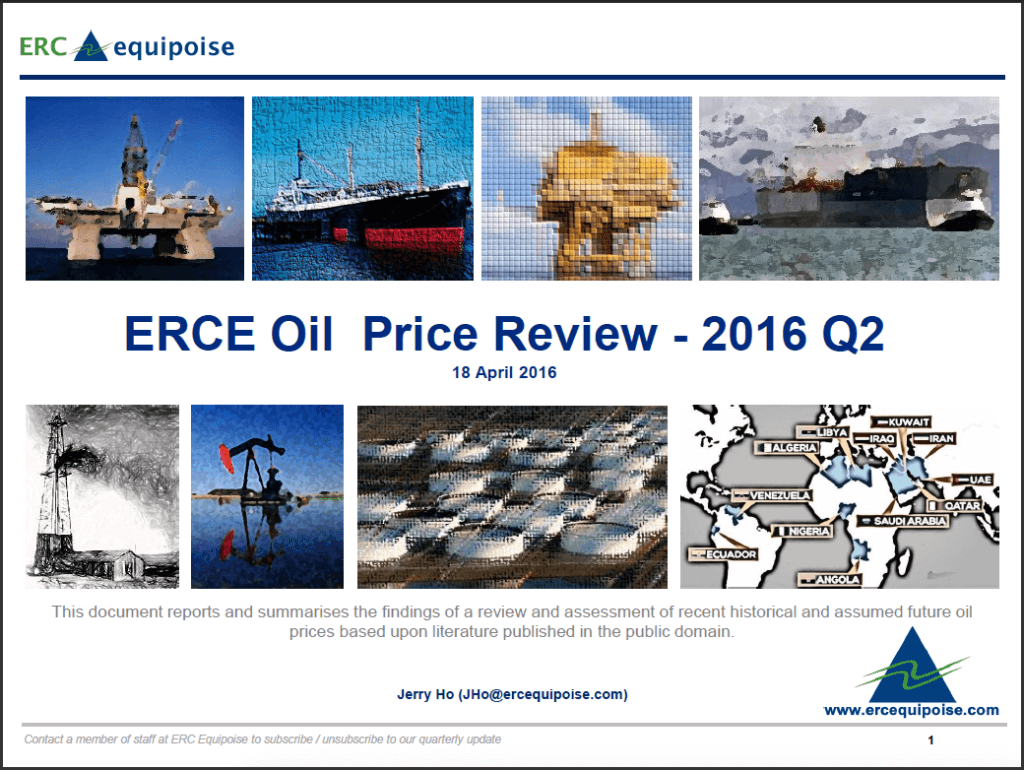 TAG Oil's friends at ERC Equipoise have kindly allowed us to share their report on the big drivers they currently see in oil markets. This report reviews current oil and gas prices and looks at some of the global macro indicators influencing these trends. In addition, it provides current oil price decks and reviews oil price assumptions presented by other petroleum consultants, analysts and agencies. 
A few of the issues they cover include…..
Have we bottomed out? 
Crude oil prices rallied to a 2016 high in mid-April. Heads of the commodity trading houses have called the bottom on crude oil prices, predicting they'll rise from now on, though the recovery will be slow due to surging levels of oil inventories (see slide 18 of the presentation). On a technical level, Brent is currently trying to break through resistance at the 200-day moving average (MA).
Are we still in oversupply?
High-cost production is falling. The anticipated negative impact of the current downturn on US oil production outlook is taking shape (slide 20). Non-OPEC production is expected to decline further. OPEC production has also begun to fall but this may be temporary due to outages (slide 22). On the demand side, risks point to the downside as the IMF presented its gloomy outlook last week, estimating 3.2% global growth.
A buyers' market without buyers
Since the start of the crash in crude prices in July 2014, upstream M&A has been very quiet. High volatility and uncertainty in the oil price outlook have created a significant bid/ask spread in upstream O&G bids. Moreover, the high leverage levels and negative cash flows have further reduced potential corporate M&A. We are almost two years into the downturn and the industry has accepted the "lower for longer" scenario and is adjusting accordingly, with an expected increase in M&A activity going forward as the expectations between buyers and sellers converge.
Review the full report here >>
About ERC Equipose
ERC Equipoise is a leading employee-owned oil and gas reservoir evaluation firm. Headquartered in London and with an Asia-Pacific office based in Singapore, their in-house team is comprised of geoscience, engineering, petrophysics and economics professionals.
ERC is called upon by E&P companies like TAG Oil, as well as the finance community to support them in technical projects, reserves and resource audits, and commercial studies.