Drowning in Oil — Again? History Repeating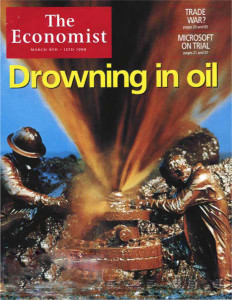 You could say it was one of the most ill timed predictions in history. In March of 1999, The Economist suggested that oil could fall below $5 a barrel.
As quoted in the article, "Consumers everywhere will rejoice at the prospect of cheap, plentiful oil for the foreseeable future."
So what actually happened? Prices soared steadily from $10 to more than $140 a barrel over the course of the next 14 years.
There are many similarities between what happened in 1999 and what's happening today.
Oil is featured once again in The Economist's January 23rd Issue, titled: "Who's Afraid of Cheap Oil"?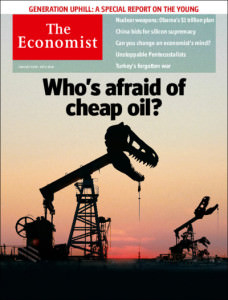 The current article mentions that few expect oil to start rising before 2017. And it delves into some of the factors that are affecting individual companies, whole countries, and the world economy due to the drastic fall of oil prices.
Since the success of fracking in the United States started boosting oil production, Saudi Arabia has been on a mission to drive the fracking oil players out of business. With deep pockets and deep oil reserves, they can afford to play a long game of undercutting their own profits – not news to those of you who read this blog.
(*Developing news indicates that the Saudi's are not immune to the pain, and that OPEC is getting serious about cutting production to help stabilize oil prices. We're not getting too excited about temporary price surges, but it will be interesting to see how things shake out in the long term. For a perspective on today's developments, check out A Special Situation. The Energy Report 2/18/16.)  
Although some companies are predictably starting to fail, many have proven their  staying power by eking out efficiencies to cut costs and stay in business. These producers are holding on to hope, as well as information coming out of the US Energy Information Administration (EIA), which expects global demand for oil to increase from 2014 levels of 93.33 million barrels per day (mbps) day to 96.69 mbpd in 2017.
We are also seeing a lull in new exploration worldwide, with major projects being put on hold until the economics make more sense. "In America, spending on fixed assets in the oil industry has fallen by half from its peak." That represents a lot of money that used to contribute to the global economy over the past 15 years, that's just up and disappeared of late.
The Economist article also states: "Much of the $650 billion rise in emerging-market corporate debt since 2007 has been in oil and commodity industries." Companies that have piled on debt are now trying to figure out how to pay that debt. (See TAG's 9/15 blog post, Debt and Interest: The Real Beasts of Burden.)  And to make matters worse, some of the debt load is becoming even more difficult to bear, with countries such as Columbia and Mexico raising their interest rates in December.
Although The Economist's January issue is careful not to make another prediction as they did in '99, leaving it at, "it's a mug's game" this time around, it's hard not to look and wonder: Are they accidently predicting the bottom of the oil cycle once again?
As for TAG Oil in all this chaos, we have always found it important to keep TAG's balance sheet debt free. And like others, we have effectively lowered our production costs, and scaled back on new exploration and higher risk permits to conserve cash. It's not the time for exciting developments, but we can positively say that through this downturn, we're doing what it takes to stay strong financially.