Create a position in oil – today may be the day
To continue our recent theme on oil prices: where they're going, if they've hit bottom, who knew what / when, how reliable this upward trend is…here are a few perspectives that have caught our attention recently.
First, two pieces from Energy & Capital. To cut to the chase, Keith Kohl's title is "Oil Already Bottomed, Now Time to Buy." He cites falling rig counts and the effects of companies slashing budgets (U.S. company upstream capital expenditure declined by 12% year-over-year during the fourth quarter of 2014). All this in a world where 86% of our energy comes from fossil fuels, accompanied by this chart from the EIA: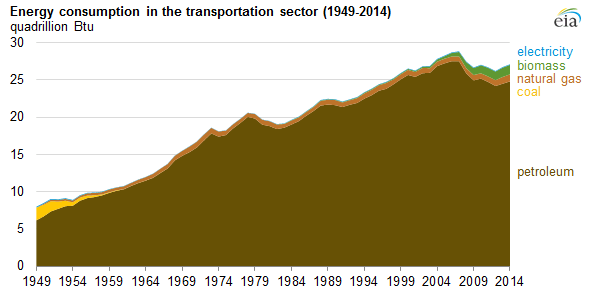 Alex Martinelli takes a look at Middle East developments in his piece, "Invest in the Oil Bottom: The steady rise to the top," from which our favorite line is a quote from his colleague Briton Ryle in a column for Wealth Daily: "Bottoms are V-shaped; tops are a process." This simple phrase tells the whole story of the last few months for the oil market. With another excellent visual representation of what that means below.
And we'll close with some related advice from CNBC. "Stop trying to pick the bottom in oil and recognize that today is actually an opportunity to create a position in oil." Gaurav Sodhi, resources analyst at research service Intelligent Investor, told CNBC's Leslie Shaffer in mid February.
"The impact of the oil price has been well and truly priced into every major oil producer around the world. Oil service companies have been hammered. Equity valuations already infer current oil prices. There's a small chance prices may fall further but I'd say that there's a very good chance that in five years' time we're going to see prices at $80 or higher."