Cheal-B4ST exploration well gives us a strong flow test from multiple zones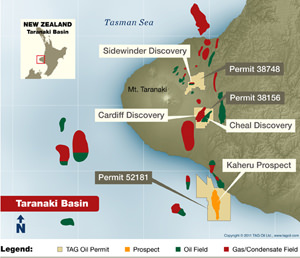 News just how we like it: We drilled the Cheal-B4ST vertical exploration well to 1821m and encountered net pay in both the Urenui and Mt. Messenger Formations. Flow rates averaged 400 BOE per day (360 barrels of oil + 240 thousand cubic feet gas) after the first week of production.
The well encountered 17 meters of net pay within the Urenui at ~1400m and Mt. Messenger at ~1700m. These Miocene-aged zones were isolated and tested separately, confirming oil and gas flow rates from both. The Urenui test really opens a door on the potential reserve growth of the Cheal oil and gas field, which til now has relied on the Mt. Messenger formation only. The potential for PMP 38156 is just at the tip of the iceberg we hope.