Cash today, oil tomorrow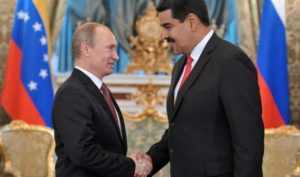 Venezuela has offered up an ownership stake to Russia for nine of Venezuela's most productive oil projects. 
Negotiations began early in the year between Venezuela's state-owned oil firm, Petroleos de Venezuela (PDVSA) and Russia's state-owned oil company, Rosneft.  Since reaching extreme levels of civil unrest, Venezuela's government has been in need of money to avoid defaulting on sovereign bond payments totaling approximately $6 billion due this year.
The socialist government of Venezuela, run by President Nicolas Maduro, received $1 billion from Russia in exchange for equity positions in nine oil projects and guarantees of future Venezuelan oil shipments.  This would total 14 fields that Russia has a stake or ownership in.
But the United States is the top buyer of Venezuela crude, which gets interesting with the current sanctions on Russia.  As of now, Rosneft is buying and reselling about 13% of Venezuela's oil. But it seems as though Putin is positioning his country for the future, as Rosneft currently owns 49.9% in Venezuelan-owned, U.S.-based Citigo.  If Venezuela were to collapse, Russia would be in control of Citgo. 
"We cannot give Putin any opening to affect the flow of oil or toy with Americans' prices at the pump, and we cannot play Russian roulette with America's energy infrastructure," Senator Bob Menendez (D-NJ) said at a press conference in April, after writing the Treasury Department to warn that Venezuelan default could leave Moscow with control of Citgo.  Although as part of the new deal, the collateral stake in Citgo could be exchanged for three additions PDVSA oil fields, two natural gas fields and the fuel supply contract. 
Is Russia growing its energy stakes, waiting for an inevitable oil price rebound?
To read the full article click here.