BFOE…and now T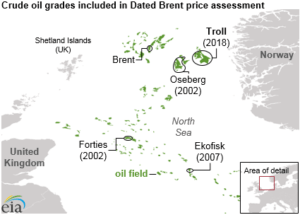 It's recently been announced that Norway's Troll crude oil will be added to Brent global benchmark crude oil price method assessment in January 2018.
Brent Crude is the trading classification of sweet light crude oil that serves as a major benchmark price for purchases of oil worldwide, including the oil that TAG Oil produces and sells. The new addition Troll, is Norway's light sweet crude oil grade with a typical production of 10 to 15 cargoes of 600,000 barrels each month.
Currently, the benchmark for Brent pricing is made up of transactions of four specific grades of crude oil located between the United Kingdom and Norway, commonly known as the North Sea. As of late, production of the North Sea oil grades have been declining, motivating the price reporting agency Platts to add Troll crude.
Back in 2002, as production from the Brent field declined, Platts added Forties and Oseberg to the index, and Ekofisk in 2007 (known as BFOE). Platts believes it is time to add another grade to ensure there is sufficient deliverable crude reflected in the price assessments.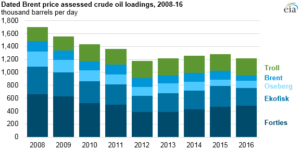 The annual combined cargo loadings of the four BFOE crude grades in 2006 were at 1.4 b/d and 10 years later in 2016 they have fallen to 948,000 b/d.  Adding Troll crude will add roughly 29% more crude volume bringing the current BFOE Brent price assessment to about 1.2 million b/d.
Interesting Fact: The Brent Benchmark is named after the Brent Field, located in the UK waters between Shetland Islands and Norway. Discovered in 1972, production began in 1976. But production on the field is now nearing its end, as operator Shell begins to decommission and remove offshore platforms on the 154 wells.
To read the full article click here