Benefiting from the lows in the energy market
It's been a long few years for oil producers, including TAG Oil.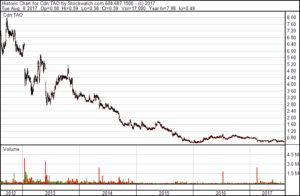 The ongoing oil-price slump has driven a lot of positives for TAG, such as lowering costs across the board and proving to our shareholders that we are more resilient than the many producers who have suffered, and even had to close their doors. But it has also pushed our stock from highs of over $10 to where we sit today, under $1. Frustrating, to say the least.
But as we have shared in recent posts, it seems as if sentiment from market watchers is quietly shifting towards a bull market. Recent predictions from analysts have flagged the oversupply to end in late 2017, which should lead to an eventual rise in oil prices. A rise in oil prices will give producers an increase in profits and a potential rise in stock prices.
We know there have been good signs before, some of which were short lived. What we ask of our shareholders and future investors, is to use their knowledge from the past and apply it to the future. And always remember the number one rule of investing: buy low and sell high! And this is definitely a time of lows, for good and bad, in the energy markets.