A deal is struck. Long live the deal.
After months of speculation, OPEC has finally reached a production reduction deal.  Members have agreed to cut 1.2 million barrels per day, OPEC's first production cut in eight years.  The announcement has already had an effect on oil prices, with crude jumping more than 10%.
The cut will be distributed between OPEC members beginning in January 2017.  Here is what the cut will look like: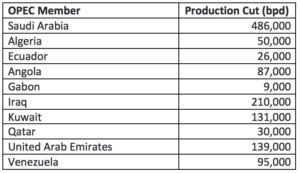 As previously suspected, Libya and Nigeria have been exempted from the production deal, and Iran—which is still recovering from sanctions—is allowed to raise output by 90,000 bpd, raising its production levels to roughly 3.8 million.  Indonesia, which had stated its hesitation on the production cuts, has asked for a freeze on its OPEC membership at this time.
To add to this bullish deal, Russian Energy Minister Alexander Novak has chimed in, stating that Russia will participate in a cut of up to 300,000 bpd, although this will still be contingent on its technical abilities.
OPEC has also shared that they will be meeting with non-OPEC members in 10 days to see if other countries will be willing to join in the reductions.  The group has also specified that they will meet again in May 2017 to assess if the reductions need to continue for another six months.
OPEC's goal of normalizing global inventory levels and targeting a price range of $50 to $60 a barrel seems to have already taken effect, with energy company share prices rising around the globe, along with currencies of the largest crude exporters.  As for TAG Oil, a sustained increase in oil prices would allow us to rev up the exploration plans that have been sitting on the back burner.