The 7 Key Factors Driving Small-Cap Oil & Gas Valuations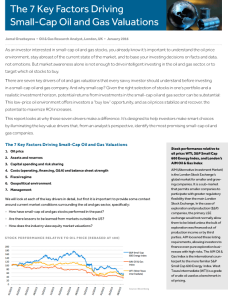 When will the oil price pendulum swing back?
And when it does, how well will you have weathered the current turmoil?
Oil price is just one factor that materially impacts small-cap, oil and gas company valuations.
A new industry report by oil and gas analyst Jamal Orazbayeva identifies the key drivers of oil and gas valuations that every investor should understand.
What are the 7 Key Factors?
Read how these diverse factors influence what a company's real value might be, and how they may help identify companies that are well-positioned for the long-term.
Oil price, world supply, demand dynamics, and oil price recovery timing.
Asset base and reserves, their evaluation, and their evolution based on the E&P cycle.
Capital spending and its relation to growth, strategies of risk.
Cost controls, balance sheet strength, and debt policy.
Fiscal regimes and how they impact valuations.
Geopolitical environments and how they influence risk attitudes and valuations. 
Management abilities and how they translate into share appreciation.
Sign up on the right to download your free, no-obligation report now.
Also Available in Print
To order a printed version of the report, please contact:
Ashley Garnot
General Manager
mailto:ashley.garnot@tagoil.com
Direct +1.604.282.6384
TAG Oil Ltd.
885 West Georgia St., Suite 2040
Vancouver, BC
Canada V6C 3E8