Stratford Agricultural & Pastoral Association Show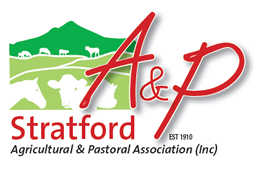 For more than 100 years, Taranaki residents of all ages have flocked to the Stratford A&P showgrounds under the mountain to enjoy the annual agricultural show and its wide range of attractions. With an impressive lineup of livestock on display, as well as hands-on opportunities for kids to mingle with a variety of small animals, there is something for everyone to appreciate and enjoy.
Exhibitors of cattle, horses and pigs are invited to compete against some of the country's top-bred animals for prize money and recognition. For children, there is a calf club section as well as a class for pet lambs. Other activities include sheep dog trials, sheep shearing, the ever-popular pig races, wood chopping and a full equestrian lineup. Food and beverages are available for the hungry, thirsty and tired.
With this year's emphasis on children and families, TAG is sponsoring the TAG Oil Kidz Fun Spot.
There are 92 A&P Shows around New Zealand and the Stratford event is up there with the best of them. Last year 15,000 people came through the gates and this year, a similar sized crowd is expected the last weekend of November. The show kicks off on Friday the 28th with the equestrian events, and the gates open to the public on Saturday and Sunday November 29 and 30 for non-stop activities from 9am to 4pm, we hope to see you there!