299 million years old and still giving
The Permian Basin of West Texas and Southeast New Mexico is not only one of the best known oil and gas producing regions, it's also one of the most prolific!
Since 1921, the Basin has produced a massive 30 billion barrels, and it's still going strong.  With an exponential potential—in part to new extraction techniques—the Permian Basin it is one of the top oil plays in the U.S.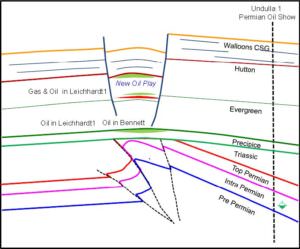 Why does TAG Oil care about the Permian? 
Because TAG has a Permian play of its own.  TAG's Australian permit PL17 covers 104 km2 (25,700 acres) in the Surat Basin, and the Permian lies in the lowest section, at 2100 meters. Testing and analysis are being run, but it could hold multiple TCF of gas and gas condensates.  
The significance is that the Australian Permian has similar characteristics to the Permian in Canada and the U.S., although on a smaller scale. 
The difference between the Permian and other basins is that while source rock becomes a trapping mechanism for quantities of oil and gas, in the Permian there are no real "traps": everything in the layer could potentially be one big oil and gas resource play.
TAG Oil's next steps will be to apply a 3D seismic shoot across a significant portion of the block. This will give us more definition on the drillable prospects that we currently see.   
To hear more about the Texas Permian Basin, listen to this short piece on NPR's Marketplace.